-->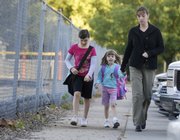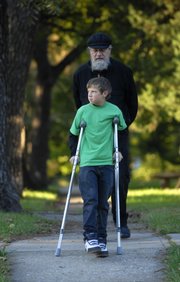 Small children and their parents plan to take to the streets Wednesday morning.
Several area elementary schools have organized activities to coincide with International Walk to School Day, originally established by the Partnership for a Walkable America.
Douglas County's top prosecutor says the day is a chance to promote safety for children, parents and drivers.
"This gives us an opportunity not only to participate in a very important event that improves the health and welfare of our kids, but to also have an opportunity to talk with kids about safety and to be able to talk to kids about safe routes to school," Douglas County District Attorney Charles Branson said.
He plans to walk his own children to school Wednesday, and his office also sent out information about the event to community groups.
Branson said traffic safety around Lawrence schools has been a hot topic since the Jan. 31, 2006, death of 6-year-old Bryce Olsen, who was not wearing a helmet and was struck by a minivan while riding his scooter to Prairie Park School. The motorist's vision was obscured by a shrub at the intersection, and police concluded he was not at fault in the accident.
Lawrence elementary schools plan to participate and have some special recognition Wednesday. Also, area schools in Baldwin City, Bonner Springs, Eudora, Lansing, Tonganoxie and Valley Falls have something planned.
Cherie Sage, outreach coordinator for Safe Kids Kansas, said the nonprofit coalition encourages parents to walk with their children to school to promote pedestrian safety but also to stress physical activity and decreasing congestion around schools.
"There's a lot of positives to come out of encouraging a more pedestrian-oriented lifestyle," Sage said.
Children who participate also receive reflective zipper pulls from the Kansas Department of Transportation, she said.
Safety and health tips
¢ Teach children safe walking or biking behavior, such as using crosswalks.
¢ Be alert when driving near a school zone or when pedestrians are present.
¢ Parents should accompany children to school when they can.
¢ Parents can plan a safe route to school with their children that includes a safe place to go in case they encounter a bully or other trouble.
- Source: International Walk to School in the USA.
Copyright 2018 The Lawrence Journal-World. All rights reserved. This material may not be published, broadcast, rewritten or redistributed. We strive to uphold our values for every story published.