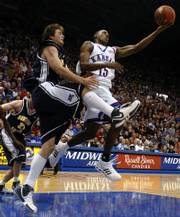 A huge football fan, Kansas University basketball coach Bill Self on Tuesday was asked to predict the outcome of Saturday's KU-Missouri Border War battle at Arrowhead Stadium.
"I think it will be a great game ... close midway through the third quarter and we win by two touchdowns," Self said. "I'll go 42-28."
Wait, coach ... that was almost the exact same score of KU's victory against Oklahoma State on Nov. 10 in Stillwater, Okla.
"Is that what it was?" he said of the Jayhawks' 43-28 victory. "That's what was on the top of my head."
Football enthusiast Self - he recently engaged reporters in a 15-minute conversation about the career of Hall of Famer Barry Sanders - was willing to provide detailed analysis of the KU-MU contest.
"The bottom line is, I don't know who can stop us ... but I don't know who can score on us. Oklahoma State has as good an offense as anybody, and we totally controlled that game. The final score was closer than what the game was," Self said. "I do think it'll be a great game, though, great game."
Self is a big fan of football coach Mark Mangino.
"He's a 'ball' coach," Self said. "A coach who is focused on his team. He doesn't deviate from what he thinks is important. He doesn't promote individuals; he's promoting the team concept. A lot of individuals have benefited from it."
KU senior Russell Robinson said he was thrilled for the football players.
"We've seen their dog days when they were losing close games here and there. Now we're seeing them win - win big, too," Robinson said. "The thing I love the most is they are humble about it. They are no different from when they were losing. Now they are winning."
¢
Bend your knees, swish: The Jayhawks hope to improve on their 60.2 percent free-throw percentage in today's 7 p.m. home game against Northern Arizona.
"We are taking more time at practice," Self said. "Free throws at practice early in the season ... it takes a lot of time. There are other things we have to work on as well. We have better shooters than what we've shot."
Including Sasha Kaun, who is eight of 20 for 40 percent.
"There's a little pressure. You've got 16,000 looking at you; the 'oohs and aahs' (from crowd). That puts a little more pressure on you," Robinson said. "Sasha has a lot of pressure on him. Everytime he's up there, it's 'ooh and aah.' The main thing is to go up there and knock them down. It is an issue, but we are not waving any red flags. We'll continue to work on it."
¢
NAU is 3-1: Defending Big Sky Conference champion Northern Arizona, which lost three starters off last year's 18-12 team, was picked fourth (of nine squads) in the league's preseason coaches poll.
"They lost some guys, (but) they are better this year," Self said of the Lumberjacks, off to a 3-1 start.
"They took Arizona to the last minute after being down 16 (with nine minutes left). They cut it to two (points), two to three times. It's a good test for us."
Junior guard Nathan Geiser and senior forward Kyle Landry scored 17 points apiece in NAU's 76-69 loss to Arizona on Nov. 13 in Tucson, Ariz. The Lumberjacks, who have beaten UMKC (77-62) and Adams State (78-65) at home and Mississippi Valley State on Monday on the road (65-56), trailed 'Zona by three points with a minute left.
"We can say it any way we want, but we got bullied inside," Arizona interim coach Kevin O'Neill said after that game.
Last year, the Lumberjacks dropped a 91-57 decision to KU in both teams' opener at Allen.
"We played great, one of the best games we played all year in the first game," Self said. "We got them down early. They are better. They run really good stuff."
The Jayhawks, who will meet Arizona at 7 p.m. Sunday at Allen, insist they will have just as much respect for the Lumberjacks as the Wildcats.
"They've got good shooters," Robinson said of Northern Arizona, which hit 63.2 percent of its shots (including 11 of 18 threes) in the 15-point victory over UMKC, a team KU beat 85-62.
"We've got a lot of respect for them. We played them last year. We got a feel for them. One game at a time; it's how you've got to do it. It's a game we've got to get better."
¢
Henry signs with Yanks: C.J. Henry has decided to play a fourth season of professional baseball. Henry, who hit .184 last season for the Philadelphia Phillies' Class A team in Lakewood, N.J., told Rivals.com on Tuesday he has signed a one-year contract with the New York Yankees. He was a first-round draft pick of the Yankees in June of 2005.
Henry also orally committed to play basketball at KU in 2005. It's expected he eventually will play basketball at KU if his baseball career doesn't pan out. His brother, Xavier, is one of the top players in the Class of 2009.
"Kansas is definitely up on my list," C.J. Henry said. "I'm past the visit stage. If I decide to go to college, I'm just going to pick a school."
Copyright 2018 The Lawrence Journal-World. All rights reserved. This material may not be published, broadcast, rewritten or redistributed. We strive to uphold our values for every story published.