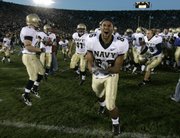 South Bend, Ind. — It's over. After 44 years and three overtimes.
Navy finally beat Notre Dame - 46-44 in triple overtime - on Saturday, ending the Fighting Irish's NCAA-record winning streak against the Midshipmen at 43 games.
"I'm happy I don't have to answer anything else about the streak every time we play," Navy coach Paul Johnson said.
Roger Staubach was quarterback for the Midshipmen in 1963 when they beat Notre Dame, 35-14. Since then, the Irish have had their way - until Saturday.
Seven times during the streak the Midshipmen had chances to win in the fourth quarter only to be thwarted by bad luck, questionable calls or big plays by the Irish. A few times Saturday it looked as though the victory would elude them again. But this time the Midshipmen managed to make the decisive plays.
"Honestly, this win hasn't even hit me yet," linebacker Matt Wimsatt said. "I can't wait to talk to everybody back home. This is definitely bigger than just one football game."
Copyright 2018 The Associated Press. All rights reserved. This material may not be published, broadcast, rewritten or redistributed. We strive to uphold our values for every story published.