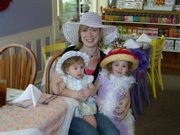 Eudora — My two young daughters and I were in downtown Eudora on May 10, 2007. We had just stopped by city hall to pay our City of Eudora bill and inquire about the city wide garage sale when we noticed the tea shop across the street was open for lunch.
My 3-year-old daughter Abbie was drawn to the pretty hats and jewelry in the window of Madame Hatters Tea Room. As we entered we were greeted by the owner, Bonnie Freeland, and seated at an adorable table with lacy and printed table cloths, pretty mismatched tea cups and a tea pot. Our server came to the table and took our drink order, iced tea for me and pink lemonade for the girls, then invited us to visit the vault ( the building used to be a bank) and dress up.
I chose a hat and necklace for myself and my 15-month-old daughter Madeline. Abbie picked a feathery hat, a white feather boa and several necklaces. After we were all dress up we returned to our table where our order was taken and our food was served.
Abbie was thrilled when her pink lemonade came out in a tea pot for her to pour into her pretty tea cup and her applesauce was served in a pedestal dish on a saucer with a lacy doily underneath. All of the food was delicious. We especially enjoyed the dessert. Madeline and I shared the cheese cake with mixed berries on top and Abbie ate every bite of her chocolate cake.
Throughout the entire meal we wore our dress up things, chatted and enjoyed the food and atmosphere. We had an amazing time just having lunch together. A tea party is something every mother and daughter should do at least once. We can't wait to go again.
Copyright 2018 The Lawrence Journal-World. All rights reserved. This material may not be published, broadcast, rewritten or redistributed. We strive to uphold our values for every story published.