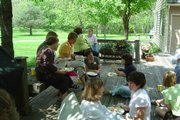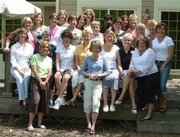 For the 15th amazing year, the Women of Thursday, an interdenominational Bible study group, and their guests met for a day-long retreat on Thursday, May 10.
This year their day was spent discussing prayer and holy leisure with speakers Charlotte Ostermann and Sister Clara Remartini of the Apostles of the Interior Life at the country home of Nancy Burt. We discussed many different ways of prayer, and learned some of what it means to be God's "poema'" or workmanship. We also shared an amazing potluck salad lunch of all things spring from asparagus to rhubarb and beyond.
Copyright 2018 The Lawrence Journal-World. All rights reserved. This material may not be published, broadcast, rewritten or redistributed. We strive to uphold our values for every story published.