Who would've thought? Playboy magazine has articles, too.
Kansas University football standout Aqib Talib will be in one, in fact. Talib was named to the 2007 Playboy preseason All-America team this month, and the complete squad will be featured in the September issue of the adult magazine.
"It was an honor to be out there with Darren McFadden (Arkansas), Brian Brohm (Louisville) and Steve Slaton (West Virginia)," Talib said. "It was an honor to be out there with them and named in the same category as them."
As part of the recognition, Talib lived the high life for a couple of days earlier this month. While the team wasn't invited for fun at the famed Playboy mansion in Los Angeles, there was an all-expenses-paid trip to Phoenix from May 11-13, where the players shacked up in a luxurious resort, attended functions and horsed around at the team photo shoot.
"Food, drink and activities were paid for," Talib said. "We ate real good. We had a lot of fun at the photo shoot, just playing around. Everybody had their cameras out there and stuff. It was nice."
Talib, a fourth-year junior, met well-known people like Arizona Cardinals running back Edgerrin James while in Phoenix. As for his peers, he went in knowing nobody on the team personally, but left with some new buddies.
"I really enjoyed myself," Talib said. "It was a real fun vacation for me."
Talib was recognized as a cornerback, largely because of the huge statistics he put up in 2006. Despite playing in only 10 games and being avoided by offenses for many of them, Talib had 28 passes defended, easily tops in NCAA Division I-A. Six of them were interceptions, a couple changing the momentum in eventual KU victories.
While the honors continue to grow in prestige, the Richardson, Texas, native has been decorated ever since he started playing as a red-shirt freshman in 2005. Recruited as a cornerback, Talib was moved to strong safety during his red-shirt season, then moved back to cornerback midway through the '05 campaign.
His impact was obvious almost immediately. Talib's signature play his freshman year was the interception of an errant Brad Smith option pitch against Missouri, setting up a 13-3 KU victory.
He's had 96 tackles and eight interceptions in his two years, developing into one of the Big 12's best cornerbacks and a promising NFL prospect.
But he's expected to see some increased time as a wide receiver, and maybe even returning punts as well. Talib had a 45-yard touchdown reception against Missouri last year in what's been his only career reception so far. It's not expected to be his last, though - Talib spent part of the spring working on offensive drills, and had two catches for 31 yards in the spring game.
Talib is the first Playboy preseason All-American from KU since John Jones in 1994. John Riggins, Dan Eichloff, Willie Pless and Dana Stubblefield also have been recognized.
Talib admitted being proud of the Playboy honor, though he did say "it's a preseason award."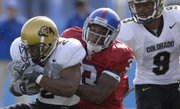 That said, getting similar postseason honors - and the positive publicity that would follow for KU - would require some things coming together for the Jayhawks. Talib, for one, needs to play well. In some ways, so do the defensive backs lining up with him, so offenses don't just shamelessly throw away from Talib.
Team success could make a difference, too. The 2006 Jayhawks finished 6-6 and had the worst pass defense in Division I-A, which may have dented Talib's reputation despite most pundits feeling he had a solid year.
Talib said he has made it a point to take on more of a leadership role, and that means now. KU starts its summer conditioning program June 4, and that will last through July before preseason camps starts the beginning of August.
"We're going to try to make this the best summer we've had since all of us have been here," Talib said. "We've got a couple of new leaders stepping up. Instead of waiting for the season to start, this time we're going to get the competitiveness started this summer."
Copyright 2018 The Lawrence Journal-World. All rights reserved. This material may not be published, broadcast, rewritten or redistributed. We strive to uphold our values for every story published.