Browse the data
Browse an interactive map of alcohol violations.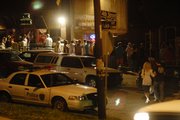 When Reid Walter walks into a bar, people pay attention.
Quick glances are made, drinks are put down and the most noticeable of all is a rolling echo that bounces throughout the bar announcing his presence. "The cops are here," they say.
In the case Thursday night, it was just one cop, Walter. He was patrolling the bars just off Kansas University's campus, checking for underage drinking.
He looked for those who took a quick drink, made eye contact and abruptly set the drink down. And for the ones who sat awkwardly with their drink above the table and their hands folded underneath.
Walter stood back from the door, watched, waited and hoped the crowd would quickly forget he was there.
It's an acquired skill, he said, picking out those under 21.
Of the hundreds of minors charged with possessing alcohol each year in Lawrence, the majority come from bar or liquor store checks.
With the ending of final exams and the beginning of graduation season, the past week is one of the busiest for minors being ticketed for possessing alcohol, Lawrence City Prosecutor Jerry Little said.
But it is an offense that at least one minor will get caught doing nearly every week in Lawrence.
For 2006, Lawrence Municipal Court records show there were 438 cases of minors in possession of alcohol, or MIPs. The court has processed 98 cases of MIPs so far in 2007.
The numbers are by far the largest in Douglas County. Other nearby communities - such as Eudora, Baldwin City, Tonganoxie and Basehor - tally a couple dozen MIP cases a year, if that.
The reason, law enforcement officials say, is because Lawrence is a college town and has a host of bars attracting those under 21.
In the grand legal scheme, a charge of being a minor in possession of alcohol is, well, a minor offense. But for cash-strapped students, it can result in a hefty expense and a blemish on a record that could be viewed by prospective employers.
"I think most people are aware there are certainly consequences to it. They might not understand the nature and seriousness of the consequences until they get nailed for it," Little said.
Add it up
In Lawrence, MIPs result in a $300 fine. Offenders also are threatened with jail time and a 30-day suspension of their driver's license.
For those who don't have a criminal record, they can enter a diversion program.
"Diversion is not a conviction. It is basically a contract you sign, agreeing to do certain things during the year, like going to alcohol class, pay the money and stay out of trouble. And, at the end, we will dismiss the case," Little said.
According to Lawrence Municipal Court records, about one-third of last year's MIP cases were put into the diversion program. Another third were amended to lesser charges, such as minors in consumption of alcohol and possession of alcohol in public.
Little said the system is set up to give first-time offenders a break.
"Because they got caught when they were under 21 with a beer, drinking, we don't necessarily want them to have a criminal record that is going to affect them for the rest of their life. But we do want them to have consequences to their actions," Little said.
Those who get a second MIP could have their driver's license suspended up to 90 days, a higher fine and the possibility of spending a weekend in jail.
Out of 100 cases, Little said, maybe two offenders are back a second time.
Legal defense
A good portion of the students at KU who receive MIPs come through the school's Legal Services for Students.
"It's their first time in front of a judge, first time in a legal system. They are not crazy about telling Mom and Dad so they come to us," said Jo Hardesty, director and managing attorney for Legal Services for Students.
The department can't represent students in court for criminal matters, but the attorneys can explain the process, talk about the student's rights and advise the student to get a copy of the police report, Hardesty said. Because many students enter into diversion agreements, most don't hire attorneys.
'A little more wary'
Students say the consequences of an MIP are real.
Douglas Campbell, a 19-year-old KU freshman, said he lived off of campus food and ramen noodles for a few months so he could use his grocery money to help pay the almost $500 price tag for his MIP ordeal.
Before Campbell was issued an MIP ticket last winter, his only encounter with the law had been traffic tickets. So, Campbell was surprised when he found out an MIP was quite a bit stronger than a "slap on the wrist."
Campbell said when he received the ticket, the police officer told him there would be a fine and he would have to appear in front of a judge.
"I was thinking it wouldn't be that bad," Campbell said.
Deciding it wasn't worth the cost to hire an attorney, Campbell navigated the court system on his own, which he said wasn't easy. The process seemed rushed and at one point he felt he was spinning in circles.
To keep the MIP off his record, Campbell said, he decided to do the diversion program. Along with the $300 fine, he paid $52 for court costs, $30 for a diversion application and $85 to go through an alcohol education class.
And, Campbell has to stay out of legal trouble for the next couple of months or he has to go through the process all over again and the MIP could stay on his record.
It's a threat that Campbell said he heeds.
"At least for me and my friends, it didn't stop us from drinking," Campbell said. "But it did make us a little more wary to go out to parties and go to bars; it certainly affected that."
An even costlier ticket
Just days before Jordan O'Grady was to end his yearlong diversion for receiving a driving under the influence charge, he was given an MIP.
The 20-year-old KU sophomore was caught in a bar drinking beer while watching a KU basketball game.
Because O'Grady was already facing legal trouble for driving under the influence, or DUI, the diversion program was not available to him. O'Grady's driver's license was suspended for 30 days and he had to pay the $300 fine and court costs.
The expenses didn't stop there. O'Grady's ROTC scholarship was suspended because of the DUI and it cost him a few thousand dollars to hire an attorney for both the DUI and MIP cases.
"It definitely opened my eyes. I was already in trouble so I better ... straighten my act up," O'Grady said.
To pay off his debt to his father, who covered the legal costs, O'Grady said he has been going home on weekends to work around the house.
While O'Grady said he still drinks alcohol, he claims to be more responsible and stays away from bars.
O'Grady fears having an MIP on his record could hurt come graduation time when prospective employers come across the conviction.
"While almost every college student drinks underage, it shows who is responsible enough to do it and not get into trouble," he said.
The bar vs. party scene
Since 2002, almost 1,000 tickets have been written to minors caught drinking in bars or buying alcohol from liquor stores in Lawrence, according to data collected from Kansas Alcoholic Beverage Control.
With close to 245 violations on record, The Hawk leads the way in the number of MIPs given out per establishment.
Tom Devlin is one of the owners of The Hawk, which is right off campus on Ohio Street. He said the bar is visited by police officers more than other drinking establishments in town - leading to more MIPs being issued.
The Hawk has a surveillance camera set up to record every transaction that takes place between those coming through the door and the person checking their IDs, Devlin said.
The bar owners have an ongoing case with Alcoholic Beverage Control, which has sought to revoke the bar's liquor license. The owners are appealing tickets they have received for underage drinking. In the past, the bar has paid fines for the violations.
Joe Garman, statewide enforcement coordinator for Alcoholic Beverage Control, said checking bars and liquor stores for minors is a much more efficient use of officer manpower than patrolling for house parties.
"Unless you have information on parties, it is really hard to find," Garman said.
However, for smaller towns such as Tonganoxie and Baldwin City, most of the underage drinking occurs at private parties.
Tonganoxie Police Chief Kenny Carpenter said it's a tough job when a party is busted and youths scatter.
"If you have two police officers on duty and 50 people at the party, it is pretty hard to handle," Carpenter said.
Baldwin City Police Chief Mike McKenna said most of the city's MIP charges come from parties. And much of the time, the department is alerted to the parties by upset neighbors. Baldwin City is home to Baker University.
Lasting impressions
Garman doesn't believe the minors who receive MIPs stop drinking. But he believes the law still should be enforced.
"I'm kind of old school. If I got a law that says don't do this, you have to do your job," Garman said.
Little, the Lawrence prosecutor, believes issuing MIPs works, but acknowledged the threat of MIPs doesn't stop underage drinking.
"As long as there is a university here and people under 21 get together and peer pressure and bars are around, it is going to continue on," he said. "All we can do is hope we can curb it as much as possible."
Copyright 2018 The Lawrence Journal-World. All rights reserved. This material may not be published, broadcast, rewritten or redistributed. We strive to uphold our values for every story published.