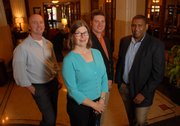 For a group of KU business students, things are looking up - up 30 percent in the past year, to be precise.
Students in Cathy Shenoy's Applied Portfolio Management class last month won first place in a nationwide contest that tests students' ability to manage a successful stock portfolio. The class earned a 30 percent return on its investments during 2006, which, combined with a presentation to a panel of judges, was enough to win first place in the national Redefining Investment Strategy Education conference in Dayton, Ohio.
Doug Goehl, a 37-year-old MBA student who was one of the presenters for the class, said the class and the contest were valuable life experiences.
"With this course, when it says 'Applied Portfolio Management,' the emphasis really is on 'applied,'" he said.
The KU class manages an actual investment portfolio that helps fund an annual men's basketball scholarship and an annual master's student scholarship. Alumnus Kent McCarthy donated $250,000 to start the program in 1993, and today that amount has grown to $2.4 million.
"The goal of the class is to be an educational experience," Goehl said. "If it makes money, it's kind of secondary. We've been lucky in the fact that we've been able to provide both for a very long time."
The KU class won in the "hybrid" category of this year's competition, which means the portfolios can include a mix of stocks and "derivative securities" such as options. Holdings in the portfolio include a medical-device developer, a Chinese provider of organic fruits and vegetables, and a chemical company in Oklahoma.
Goehl, who has a job lined up in the corporate strategy department of Payless ShoeSource, presented the portfolio along with two other students who took the class last year, Sydney Hayes and Jonathan Horne.
Shenoy, an assistant professor of business, said that students' decisions in previous years helped set the stage for the success of this year's portfolio.
"We don't do a whole lot of trading. We're more into long-term holding," she said. "It's a little bit problematic to say that all of the returns belong to the 2006 class because a lot of the stocks were selected before then."
Copyright 2018 The Lawrence Journal-World. All rights reserved. This material may not be published, broadcast, rewritten or redistributed. We strive to uphold our values for every story published.