-->
Photo Gallery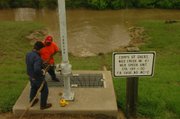 Flooding in Lawrence
A weekend of heavy rain in Douglas County and much of northeastern Kansas caused havoc Monday, as streets and roads were closed and some people had to be rescued from isolated areas because of rising water.
In Douglas County, nine people were rescued, including six women and five dogs who were attending a boxer rescue program at the Fraternal Order of Police lodge near Lone Star Lake. A woman and infant were taken by boat from a residence north of Lawrence, and a man was rescued after rising water left him stranded on a sliver of wooded ground along the Kansas River.
"All of them (rescues) have been on dry ground," said Joe Hoelscher, division chief with Lawrence-Douglas County Fire & Medical. "The problem was they just hadn't been able to leave their location due to being surrounded by high water."
On Sunday, a little more than 2 inches of rain fell on Lawrence, followed by 1.6 inches Monday, 6News meteorologist Jennifer Schack said.
In Valley Falls in Jefferson County, a roof over a smoking porch collapsed at a nursing home, sending six people to hospitals in Topeka, city Fire Chief John Gordon said. There was no word on their conditions late Monday, although Gordon said he thought some of them had been released.
About 60 other residents at Valley Health Care Center were transported by a school bus to Delaware Township Hall until the water could be cleaned up and the porch roof removed, Gordon said. The incident occurred shortly after 6 a.m. Monday, when only a few people were on the enclosed porch, he said. The residents returned to the center by late afternoon, he said.
"We were lucky it was only five or six who were transported (to hospitals)," Gordon said. "A half-hour later we could have had a lot more patients."
The heavy rain may have clogged a roof drain, putting more water pressure on the roof and causing the collapse, Gordon said. The collapse also caused a break in the sprinkler system, leading to the release of more water in the building until it could be shut off, he said.
Stranded by water
North of Lawrence, a woman and an infant were evacuated by boat Monday morning from a residence in the 1100 section of North 2050 Road. A second woman chose to remain at the residence, Hoelscher said.
"There was a person who wanted to stay and they had provisions for food and water," he said. "There was no imminent danger."
There was concern, however, for a man stranded on a wooded stretch of land threatened by the rising Kansas River just south of the Interstate 70 river bridge in North Lawrence. A second man, apparently a friend, flagged down a passer-by and asked that police and firefighters be called, according to a Lawrence Police Department spokesman.
Police and firefighters said they didn't know anything about the two men who left the area after the rescue.
By 3 p.m., the river had risen to 19.2 feet, meteorologist Schack said. It was expected to crest at 21.1 feet by 1 a.m. today, she said. While minor flooding occurs at 18 feet, major flooding occurs at 23 feet, according to Douglas County Emergency Management.
The river flooded Riverfront and Burcham parks. Dozens of residents gathered at the gate to Burcham and along the Massachusetts bridge walkways to watch the roiling river carry trees and other debris downstream. Others stood on the levees or sat on benches and watched.
Hoelscher urged onlookers to stay on the levees and away from the water.
"If you get down by the water, all it takes is for a person to slip on wet grass or mud, and before they know it, they are in water that's moving faster than they realize," he said. "It's also colder than most people realize."
Lawrence city officials also were watching the river closely. City workers filled sandbags earlier in the day in case they were needed to protect the outlet pipe at the city's wastewater treatment plant at 1400 E. Eighth St. If sandbagging becomes necessary, it would be the first time since the 1993 flood, officials said.
The city had only two reports of sewage backing up into basements. While that was unfortunate, officials said reported incidents were fewer than in past years.
Stormwater was still a problem in basements, however.
Jed Davis, 2602 La., said he spent Sunday night and Monday morning trying to clean up after several inches of water flooded his basement.
"It's really disheartening," Davis said. "You think things are in a good state and then, just all of a sudden, they're soaked up."
Equipment under water
The river also rose out of its banks at Lecompton and flooded equipment being used in the redecking of the Lecompton bridge on Douglas County Road 1029. The bridge has been closed since work began in March. The county notified the contractor, A.M. Cohron & Son Inc., on Saturday of the possibility of flooding, County Administrator Craig Weinaug said.
"They didn't (move it), and as a result they've got their equipment under water," he said.
The equipment was parked on the north bank at the site of the boat ramp, Weinaug said. He said the county still expected Cohron to finish the bridge by the Aug. 10 deadline.
Muddy Creek in Jefferson County overflowed its banks, causing 0.75 of a mile of U.S. Highway 24 to be closed east of Grantville, according to the Kansas Department of Transportation.
Two Grantville area residents voluntarily left their homes as a precaution because of the potential for flooding, said Doug Schmitt, director of Jefferson County Emergency Management Department. A third Grantville person later requested evacuation from a residence when water continued to rise.
Despite the flooding problems, the situation was nothing like a 9-inch rain deluge on Oct. 3, 2005, which caused massive flash flooding, Schmitt said. This time there was ample warning that flooding could occur, he said.
County leaders met Sunday and decided to send firefighters door-to-door to inform people of the potential for flooding in flood-prone areas, Schmitt said.
"We learned a few lessons from last time and we did our homework," he said. "But this is not near the dynamics of what it was in 2005."
Copyright 2017 The Lawrence Journal-World. All rights reserved. This material may not be published, broadcast, rewritten or redistributed. We strive to uphold our values for every story published.