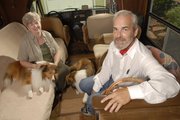 Bill McDannell is taking the long road to Washington, D.C.
It's not the route the 57-year-old former United Methodist Church minister and Vietnam veteran has taken from San Diego to the nation's capital that is slowing him down on his "Walk to End the Wars."
It's his transportation: his two legs and New Balance tennis shoes over socks and sock liners on his feet. He started his trek in California on Nov. 4.
As a critic of the Bush administration's war on terrorism, McDannell's doing it while circulating a petition to end the wars in Afghanistan and Iraq.
"There are aspects of what's going on in the country that people are not talking about, people are not thinking about, that are alarming to me as somebody who believes in this country and the principles it was founded on," he said.
He's logged 1,800 miles so far - anywhere from 20 to 40 miles a day - and made it to Pomona on Tuesday evening before he will start walking again Friday.
His wife of 14 years, Jonna O'Dell, follows him in their more than 20-year-old mobile home, named Nessie, and with their two dogs. She drives ahead a few miles until he catches up as he walks on mostly state or county highways, although he took some interstates as he crossed through Arizona, New Mexico and Texas.
McDannell carries the petition with him, and also works on the Web site, www.wtetw.com. Their cellular modem doesn't always work, and phone coverage is often spotty in rural areas.
"We've had to remain flexible on both the route and timing of everything," he said.
When he reaches a stopping point, during either darkness or inclement weather, McDannell marks his position with a Global Positioning System, and O'Dell takes him back there when he's ready to resume.
The couple stopped in Lawrence on Wednesday. He will take the day off today before he speaks at a potluck dinner from 6 p.m. to 9 p.m. tonight at the Centennial Park south shelter.
Passionate about the cause, McDannell and O'Dell sold their home in Lakeside, Calif. McDannell had to take a month off after he began the walk to close on the home sale.
They've been living off the money from selling the home but expect to run out soon. McDannell said O'Dell could end up staying with family in Hannibal, Mo., while he proceeds to Washington alone.
Despite the hardships, he says the cause is too important. McDannell describes himself as an independent but a Bush administration critic.
Because the people of Afghanistan and Iraq now have democratically elected governments, the United States has no grievance with either government, so troops should be sent home, he said.
He hopes to make it to Washington in July to "deliver the petition to whoever has the guts to receive it."
Once the mission is complete, he will likely try to find a job as a chauffeur somewhere to earn income before the couple take on another cause.
Copyright 2018 The Lawrence Journal-World. All rights reserved. This material may not be published, broadcast, rewritten or redistributed. We strive to uphold our values for every story published.