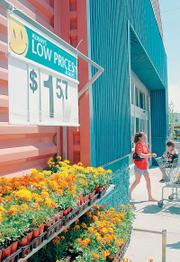 City commission race 2007
City commission race
Keeping the city's retail market healthy has become a key issue in the City Commission election. The issue also has divided the field of six candidates into two camps.
In one camp are Commissioners Boog Highberger, David Schauner and candidate Carey Maynard-Moody. They've been preaching caution when it comes to new retail development. Highberger and Schauner, in particular, have been quoting a statement made by a consultant with the PlaceMakers group that was in town earlier this year.
During one of those presentations, the consultant said Lawrence had more retail space per capita than the Dallas/Fort Worth area. They point to that - along with numbers that show Lawrence retail sales per square foot are lower than regional averages - as evidence that the city's retail market is overbuilt or at least on the verge of becoming so.
In the other camp are candidates James Bush, Rob Chestnut and Mike Dever, who have expressed concern that Lawrence is losing sales tax dollars to Topeka and Kansas City because the city doesn't offer enough shopping options to keep consumers in town. They have pointed to a 2005 study commissioned by the city that shows the community is losing shoppers to Topeka and Kansas City, and that the city's retail market is not close to being overbuilt.
A proposal that would require retail projects of 50,000 square feet or more to go through a "retail market analysis" before being approved by the city has been proposed by planners but has yet to win City Commission approval. The policy suggests that if the new development would push the city's overall retail vacancy rate above 8 percent, city commissioners would be justified in stopping it.
The general election is April 3. Voters will determine the winners of three at-large seats on the commission. Here's a look at what the candidates have said on retail-related issues.
James Bush
Bush, former pastor of Lawrence's First Southern Baptist Church, said he's not convinced that the city's retail market is overbuilt. He said, for example, that comparing the Lawrence market with what is going on in the Dallas area is not very useful.
He also said he does not support the idea of using the proposed retail market analysis for all new large retail projects because the analysis is too inflexible.
On the health of downtown's retail market, Bush said it needs a boost. But he said he thought high property taxes, not too much retail in town, were a major reason some downtown retailers are struggling.
Rob Chestnut
Chestnut, chief financial officer for Allen Press, said he's skeptical of claims that the city's retail market is overbuilt. He said comparing geographic areas is problematic, and using per capita figures is tough to do in a city like Lawrence because it is hard to accurately account for what effect the student population has on the market. Instead, he looks at retail vacancy rates, which he believes are strong.
Chestnut does not support the proposed retail market analysis idea. He said he thought entrepreneurs, rather than city officials, were more likely to "be in tune" with what the market needs.
On downtown, Chestnut said he thought its retail market was "pretty healthy," but is changing to include more entertainment uses. He said he was confident downtown Lawrence would continue to be a destination for shoppers and visitors.
Mike Dever
Dever, owner of an environmental consulting firm, said he did not think the city's retail market was overbuilt. Instead, he said there was some vacant retail space in town because it no longer was in the right location, including the former Riverfront and Tanger outlet malls.
Dever said he did not support the retail market analysis approach that has been proposed. He said going "strictly by numbers" was a poor way to evaluate the benefits of a project. Instead, he said each project needs to be looked at individually.
Dever said the city should encourage more living units downtown, which will spur more retail development.
Boog Highberger
Highberger, an incumbent commissioner and attorney for the Kansas Department of Health and Environment, said he has seen retailers struggling as a result of an overbuilt market. He particularly points to the per capita numbers related to retail square footage and sales per square foot as evidence that the city is overbuilt.
Highberger said he supports a retail market analysis of larger retail projects, in part, because it is called for in Horizon 2020, the city's comprehensive plan. He said the city has an "obligation" to protect retailers from overbuilding and the blight that comes with it.
On downtown, Highberger said the community needs to remember the benefits gained in the 1980s by fighting the "Cornfield Mall" in south Lawrence. He said such policies to protect downtown have played a key role in keeping it vibrant. He said that did not mean the city should not allow new retail development outside downtown, but rather means the city "must be careful in how we do it."
Carey Maynard-Moody
Maynard-Moody, a retired school social worker, stopped short of saying retail is overbuilt until she could see more statistics. But she said she is concerned that new retail outside downtown could compromise downtown's vitality.
Maynard-Moody said she supports a retail market analysis for new projects but said she would like to see what other communities are using before acting on the type of analysis that has been proposed for Lawrence.
On downtown, Maynard-Moody said encouraging more people to live downtown would be a good way to help existing retailers. She said she is concerned about the health of downtown, in part, because of escalating rents charged to retailers.
David Schauner
Schauner, an incumbent commissioner and general counsel of the Kansas National Education Association, said he's convinced the city's retail market is "underperforming." He said he is seeing more vacancies in downtown now than at any point in the last seven years.
He said average wages in Lawrence are significantly below the statewide average, which he said might mean the city can't support as much retail as some other communities. He also expressed concerns about the quality of the 2005 city report that suggested retail was not overbuilt.
Schauner supports the proposed retail market analysis but said its findings should not be the only reason a project is denied. He said if the city does not require additional analysis, he's concerned that Lawrence's retail market may become like Topeka's, where the western side of the city retail market grew at the expense of its downtown.
Copyright 2018 The Lawrence Journal-World. All rights reserved. This material may not be published, broadcast, rewritten or redistributed. We strive to uphold our values for every story published.