Baghdad, Iraq — Black-clad women shuffle past sidewalk clothing racks in front of shops in a commercial district of central Baghdad. Elsewhere, black flags flutter from lampposts - marking areas of Shiite control.
A two-hour drive by Western journalists through the center of Baghdad this weekend showed parts of the capital are slowly recovering from the trauma of sectarian slaughter that paralyzed this city of 6 million before the start of the security crackdown last month.
But gone is the heady religious mixture of many neighborhoods, in which Sunnis, Shiites and some Christians lived side by side.
Shiites dominate the eastern side of the Tigris River, which bisects the city, except for the Azamiyah district and a small enclave near the commercial center. Sunnis are concentrated in neighborhoods to the west of the river and districts on the city's southern rim.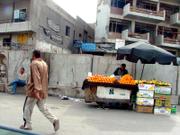 Concrete barriers block streets leading into Waziriyah, a mostly Sunni enclave on the Shiite eastern side.
A police checkpoint marks the northern boundary of Haifa Street - beyond which Shiites and foreigners venture at risk of losing their lives to Sunni gunmen in high-rise apartment buildings.
Blast walls, concrete barriers and police checkpoints enforce a relative peace, separating Sunnis and Shiites until the bitterness can ease after months of massacres and sectarian cleansing. Many of the concrete walls are adorned by neighborhood artists with paintings of daily life, some quite professionally.
At the Buratha mosque, a Shiite shrine, huge blast walls ring the grounds. In April, suicide bombers killed 85 people there. Two months later, another suicide attacker with explosives in his shoes killed a dozen more.
It's not difficult to tell which group is in charge. Large posters of bearded Shiite clerics stand in traffic circles of Shiite areas, along with black flags. The absence of those symbols indicates Sunnis are still in control.
Within the sectarian bastions, commerce is beginning to rebound, along with other signs of normalcy - though many shops remain padlocked. Some streets appear relatively lively. Others are all but abandoned.
Convenience has taken a back seat to security. Police have blocked traffic on the main street leading into the Shorja market, where a massive truck bomb killed 137 people last month. Shoppers must abandon their vehicles and go to the markets on foot.
Vendors hawk oranges, bananas and vegetables from outdoor stalls around Tayaran Square, a Shiite-controlled area that has been struck frequently by suicide attackers and roadside bombs.
At Kahramanah Square in Karradah, workmen were out repainting a concrete barrier, where a suicide driver two days before had killed eight people - three soldiers and five civilians.
Elsewhere in Karradah, shoppers were returning to the main commercial streets, though not in the numbers of a few years ago. Soon after Saddam Hussein's regime collapsed, people flocked to shops to buy new television sets and satellite dishes - which had been forbidden under the old regime.
This time, small generators looked like the hottest items - evidence of the continued failure to restore adequate power to the capital nearly four years after Saddam's rule ended.
Copyright 2018 The Associated Press. All rights reserved. This material may not be published, broadcast, rewritten or redistributed. We strive to uphold our values for every story published.