Washington — An Army contract to privatize maintenance at Walter Reed Medical Center was delayed more than three years amid bureaucratic bickering and legal squabbles that led to staff shortages and a hospital in disarray just as the number of severely wounded soldiers from Iraq and Afghanistan was rising rapidly.
Documents from the investigative and auditing arm of Congress map a trail of bid, rebid, protests and appeals between 2003, when Walter Reed was first selected for outsourcing, and 2006, when a five-year, $120 million contract was finally awarded.
The disputes involved hospital management, the Pentagon, Congress and IAP Worldwide Services Inc., a company with powerful political connections and the only private bidder to handle maintenance, security, public works and management of military personnel.
While medical care was not directly affected, needed repairs went undone as the nonmedical staff shrank from almost 300 to less than 50 in the last year and hospital officials were unable to find enough skilled replacements.
An investigative series by The Washington Post last month sparked a furor on Capitol Hill after it detailed subpar conditions at the 98-year-old hospital in northwestern Washington and substandard services for patients. Three top-ranking military officials, including the secretary of the Army, were ousted in part for what critics said was the Pentagon's mismanaged effort to reduce costs and improve efficiency at the Army's premier military hospital while the nation was at war.
IAP is owned by a New York hedge fund whose board is chaired by former Treasury Secretary John Snow, and it is led by former executives of Kellogg, Brown and Root, the subsidiary spun off by Texas-based Halliburton Inc., the oil services firm once run by Vice President Dick Cheney.
IAP finally got the job in November, but further delays caused by the Army and Congress delayed work until Feb. 4, two weeks before the Post series and two years after the number of patients at the hospital hit a record 900.
"The Army unfortunately did not devote sufficient resources to the upfront planning part of this, and when you do that, you suffer every step of the way," said Paul Denett, administrator for federal procurement policy at the Office of Management and Budget, the White House unit that prepares the president's budget and oversees government contracts.
Dilapidated conditions
The contract includes management of Building 18, which houses soldiers with minor injuries and was highlighted in the Post series as symptomatic of substandard conditions: black mold on the walls of patient rooms, rodent and cockroach infestation, and shoddy mattresses.
Those 54 rooms are now vacant. Interior work cannot be started until a badly damaged roof is repaired, and that will need another contract because it's not covered in the IAP contract, Walter Reed officials said.
"These rooms are exactly as they were left," Sgt. Gary Rhett, manager of Building 18, said Thursday. "No changes have been made."
The Army has confirmed the timing of the contract delays but declined several requests for comment on why the protest and appeal process took so long, even as more and more injured soldiers were arriving.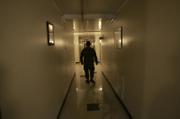 Years-old trail
The trail goes back to the end of the Clinton administration. The Army began studying the cost benefits of privatization in 2000.
When President Bush took office, he mandated the competitive outsourcing of 425,000 federal jobs. At the time, the Pentagon was aggressively pushing for increased outsourcing, and in June 2003, then-Defense Secretary Donald Rumsfeld told a Senate committee he was considering outsourcing up to 320,000 nonmilitary support jobs.
That's the same year that the Army asked for bids on Walter Reed and, coincidentally, the same year the United States invaded Iraq.
One company responded: Johnson Controls World Services Inc., which would be acquired by IAP in March 2005. It initially bid $132 million, but it and Walter Reed's then-management agreed that the Army was underestimating the cost.
By September 2004, the Army had decided it would be cheaper to continue with current management, which said it could do the work for $124.5 million. Johnson Controls filed a protest with the Government Accountability Office.
The protest was dismissed in June 2005, but the Army agreed to reopen bidding three months later to include additional costs for services.
In January 2006, after two rounds of protests by IAP and two appeals by Walter Reed employees to the U.S. Army Medical Command, IAP was named the winner, according to Steve Sanderson, a Walter Reed spokesman.
Instead, in an unusual turn of events, the contract wasn't awarded for another 11 months, the GAO said. Walter Reed officials blame several factors, including an additional protest to the GAO filed by Deputy Garrison Commander Alan D. King, a separate appeal to the U.S. Army Medical Command by Walter Reed's public works director, at least one intervention by Congress, and delays on required congressional notifications about government employee dismissals.
IAP spokeswoman Arlene Mellinger said "it was up to the Army to decide when to begin that contract."
In August, led by Sen. Barbara Mikulski, D-Md., lawmakers asked then-Army Secretary Francis J. Harvey to hold off on the contract until Congress finished work on the fiscal 2007 defense appropriations bill. Congress approved that bill Sept. 29.
The Army's plan then was to eliminate 360 federal jobs at Walter Reed in November and turn the work over to IAP, according to the American Federation of Government Employees, a federal workers' trade union. But the Army failed to notify Congress 45 days in advance, as required by law, so the turnover was delayed until early this year.
Then it was IAP's turn to have problems.
When work finally began at the hospital, IAP made an immediate request, which the Army approved, to hire 87 temporary skilled workers for up to four months "to ease the turbulence caused by employees being placed into positions or other installations and otherwise finding new jobs early," said Sanderson, the Walter Reed official.
Copyright 2018 The Associated Press. All rights reserved. This material may not be published, broadcast, rewritten or redistributed. We strive to uphold our values for every story published.