Jerusalem — Israeli Prime Minister Ehud Olmert said Sunday peace talks with the Palestinian coalition government would be impossible as long as it refuses to renounce violence and recognize Israel's right to exist.
The Israeli Cabinet endorsed Olmert's hard line, urging the West to maintain harsh economic sanctions imposed with last year's election of the militant Islamic Hamas. Palestinians had hoped the new alliance between the moderate Fatah and Hamas would lead Israel and Western countries to lift the sanctions, urging the international community to give their new government a chance.
"We can't have contact with members of a government that justifies resistance, or in other words, terror," Olmert said, according to meeting participants.
Palestinian officials urged Israel to reconsider.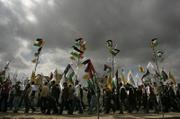 "This statement continues the long-standing Israeli policy that says there is no Palestinian partner for peace," said Azzam al-Ahmed of Fatah, the new deputy prime minister. "Israel doesn't want to revive the peace process."
The new Palestinian platform appears to soften Hamas' militant stance. Though it refers to resistance "in all forms" to Israeli occupation, it also calls for consolidating and expanding a truce with Israel.
Olmert said he would maintain contacts with the moderate Palestinian president, Mahmoud Abbas of Fatah, who was elected separately and is not part of the new Cabinet. But he said any talks would be limited to humanitarian issues.
Almost as soon as the government was sworn in, divisions began to emerge in the Palestinian coalition. Hamas issued a statement Sunday distancing itself from the government: "We call on the national unity government to support the choice of resistance against the occupation."
Israel has grown concerned that the tough international stance against Hamas could crumble following the group's power-sharing agreement with Fatah, and signs of that also began to emerge.
Norway, a major donor to the Palestinians, immediately agreed to resume aid. Britain and the United Nations also signaled flexibility, while the U.S. and Israel said Sunday that their positions would not change.
Copyright 2017 The Associated Press. All rights reserved. This material may not be published, broadcast, rewritten or redistributed. We strive to uphold our values for every story published.