SCOTTSDALE, ARIZ. — Alex Gordon showed off his tremendous potential at the plate before making a rookie mistake in the field that cost the Kansas City Royals a game.
Gordon hit his first home run in a Royals uniform and had a throwing error at third base that allowed the winning run to score in the San Francisco Giants' 6-5 victory Sunday.
Gordon led off the second inning with a shot off Noah Lowry, the first of what the Royals expect will be many more in his career.
"It feels good to finally get one," Gordon said. "Hopefully, it means I'm just saving them up for the season."
Gordon, the No. 2 overall choice in the 2005 draft, is Kansas City's top prospect in years. He is showing why this spring, overcoming a slow start to post a .394 batting average in the Cactus League.
"I know I didn't start off the spring the way I wanted," said Gordon, who is hitting .481 in his last 12 games. "But my swing is starting to feel good. I feel confident."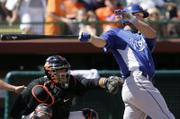 Gordon hit .325 with 29 homers last season at Double-A Wichita and was named Baseball America's Minor League Player of the Year. The Royals think so highly of him that they moved their best hitter from last season, Mark Teahen, from third base to the outfield this season to make room for Gordon.
"He has the potential to be a fine Scott Rolen from the left side," teammate Reggie Sanders said. "Of course, it all depends on his work ethic and how well he prepares. He has the talent. He definitely has the talent."
Gordon's mistake in the field ended up costing Kansas City the game. With a runner on second and two outs in the ninth, Gordon threw wildly on a chopper by Jason Ellison, allowing Frederick Lewis to score the winning run.
Teahen also had a big hit off Lowry, connecting for a two-run triple in the fourth that ended Lowry's day. Lowry allowed five runs and seven hits in 32â3 innings.
Lowry walked three and threw 86 pitches, again struggling to keep his pitch count down. He walked five in his previous outing against Oakland last Tuesday.
"He looks like he's working too hard right now to get the ball where he wants," manager Bruce Bochy said. "He needs to relax a little bit. I know he's frustrated. But he's getting his work in. That's why we have spring training."
Barry Bonds missed the game after he was excused to go home for a three-day spring break. He is set to return Tuesday - the day after the Giants' only scheduled off day of the spring.
Royals starter Odalis Perez had his best outing of spring training after getting hit hard in his first two starts. He allowed leadoff hits in the first two innings but nothing else, striking out the final two batters of his three-inning outing. He left the game with a blister on the middle finger of his throwing hand.
Perez, projected as Kansas City's No. 2 starter behind Gil Meche, allowed six runs and 10 hits in 41â3 innings in his first two starts. His last appearance before Sunday had been in a minor league game on March 13.
Armando Benitez pitched a perfect fifth inning for the Giants, striking out two. He has thrown four scoreless innings this spring as he works his way back from last season's knee injuries.
Copyright 2018 The Associated Press. All rights reserved. This material may not be published, broadcast, rewritten or redistributed. We strive to uphold our values for every story published.