Photo Gallery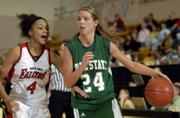 FSHS vs. Wichita Heights girls
Emporia — Before Friday, Bryan Duncan hadn't seen a team as fast as Wichita Heights all season.
"Not even close," Duncan, the Free State High girls basketball coach, said. "We've played some pretty good basketball teams, but they were by far the most talented all-around team."
The most successful girls basketball season in school history took a turn for the worse Friday for Free State, which lost, 73-49, to Wichita Heights in the semifinals of the Class 6A state tournament at White Auditorium.
Free State will face Shawnee Mission West in the third-place game at 10 a.m. today.
Despite the 24-point deficit, the Firebirds gave the Falcons, ranked No. 1 in the final Kansas Basketball Coaches Association poll, a scare at halftime. Wichita Heights (23-1) has won 21 games in a row, but only led the Firebirds by six at intermission.
"We knew they were getting really tense because they're not used to playing close to teams like that," FSHS senior guard Lauren Kimball said. "With us being down (at halftime), we still felt like we had the upper hand in that situation."
Wichita Heights opened the game in a halfcourt zone defense, which trapped Free State guards near the sidelines. The Falcons stuck with their defensive strategy in the second quarter, but Duncan had the Firebirds prepared for the second eight minutes of play.
Senior guard Allie Hock, one of Free State's best spot-up shooters, played virtually the entire second quarter against the zone. Hock found holes in the zone for open jumpers and finished the half as Free State's leading scorer with eight points, including two three-pointers.
"We did a good job of keeping the floor spread," Duncan said. "We tried to put our shooters in the right spots, so when they doubled, we could swing the ball and hit some shots."
The second half presented a different obstacle for Free State (17-7). The Falcons opened the second half in a man-to-man defense, which they hadn't displayed all game. On offense, Wichita Heights found Shekera Copeland on a frequent basis. Copeland scored 22 points and grabbed 11 boards.
"She's big and creates space," Free State senior forward Kelsey Harrison said of Copeland. "They know where the defense is at all times. They were also a lot stronger on the boards."
Wichita Heights outrebounded Free State, 42-27.
Copeland had 18 points in the first half. When Free State focused its attention on her for much of the second half, it created open outside shots for players like Amanda Orloske, who drained three three-pointers and finished with 15 points for the Falcons.
"They really hurt us inside, but they can shoot the heck out of the ball, too," Duncan said. "You either try to double inside and make them beat you from the outside, or you can play them straight up and they hurt you from the inside."
Wichita Heights outscored Free State, 41-23, in the second half.
Senior guard Jenna Brantley led Free State with 16 points, including three three-pointers. Today will be the last time Free State's senior class of Brantley, Kimball, Harrison, Hock and Jessica Scott plays together.
"I'm sure some people are down, but we need to get over it and realize we have a game to play (today)," Harrison said. "We can end our season on a win."
Before Thursday, Free State never had won a state playoff game in the history of its 10-year program.
"We're not done yet," Duncan said. "We know only two teams from (Class) 6A girls end the season with a win, and we want to make sure that's us."
Copyright 2018 The Lawrence Journal-World. All rights reserved. This material may not be published, broadcast, rewritten or redistributed. We strive to uphold our values for every story published.