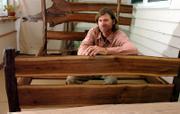 Walk into the sun porch on the back of Mark King's one-story house, and the smell of fresh wood is almost overpowering.
King, a retired Virginia Commonwealth University instructor, now fashions custom, handmade furniture as his full-time job. He works about 30 hours a week, turning out beds, tables and benches.
"The main thing is to get people to see there's such a range of things I can do," King says.
Building a bed entirely out of walnut - old trees form the bedposts, a decorative walnut stump serves as a piece of the headboard, and milled walnut boards make up the rails and slats - took King about nine months. Not a single drop of glue went into putting the sturdy bed together; mortise and tenon joints hold the main pieces together.
King didn't have any of the wood cut down strictly for his purposes, either. All of the bed pieces were created from salvaged or recycled wood.
The main log was pulled out of a river.
While the construction on the bed took about nine months, the process actually takes even longer. King, who has pieces of his furniture from 35 to 40 years ago, will find a piece of wood and have it cut immediately. He then leaves it to dry for as long as three years before even thinking about using it for furniture. It could be as much as five or 10 years before he finds the right project for a given piece of wood.
"I have the boards, and I'll lay them against the wall," King says. "I move them around and look at them and study them."
A former aquatic biologist, King has some power tools but prefers to do almost all of his work with hand tools.
He's not yet sure what his market is, but he hopes to, over time, be able to do custom furniture work for customers.
Still, King will be displaying and selling examples of his pieces at Lawrence's Spring Arts & Crafts Festival, scheduled for 9 a.m. to 4 p.m. Saturday. Parks and Recreation special event supervisor Duane Peterson said the show was at its capacity of 81 exhibitors - King included.
This is the second year for the spring event, which joins the fall festival and the holiday bazaar among other crafts fairs sponsored by the city.
"The crowd wasn't too bad last year, but we'd like more," Peterson said. "We want to have at least 5,000 people this year."
The difference with this festival is that all exhibitors - including commercial stores - are invited to sell their wares, rather than just local artists.
As with this year, last year's event competed with the Big 12 Tournament. This year, Peterson will be prepared. He plans to set up a flat screen TV so that shoppers can keep up with Big 12 semifinal action in Oklahoma City.
Copyright 2018 The Lawrence Journal-World. All rights reserved. This material may not be published, broadcast, rewritten or redistributed. We strive to uphold our values for every story published.