Kassie Humphreys figures the worst is over.
"It seems like every weekend," Humphreys said, "we have one game where we're flat."
Humphreys, a senior pitcher on Kansas University's softball team, was referring to Friday afternoon's 4-0 loss to North Dakota State in the Jayhawk Invitational.
Earlier, KU had opened its home season with a 4-2 win over Drake, but then the Jayhawks couldn't solve Bison right-hander Allison Bakke.
"I think today will be a totally different day," Humphreys said.
Humphreys, who earned a save in the opener, is expected to start today's 11:45 a.m. final pool-play game against New Mexico. The Lobos edged Drake, 5-4, and thumped NDSU, 9-1, earlier Friday.
"They beat UCLA earlier and scored 15 runs on them," KU coach Tracy Bunge said of the Lobos. "They can swing the bats."
Kansas collected nine hits - all singles - in Friday's opener, then went meekly against Bakke, striking out 11 times while posting three harmless singles.
"Their pitcher controlled the game," Bunge said. "We let her dictate the pace. We had way too many strikeouts. Offensively, it was very disappointing."
Especially after the Jayhawks (12-7-1) had plated 33 runs in last weekend's five-game tournament in Tulsa, Okla.
"We saw glimpses of us being a good offensive team last weekend," Bunge said. "We felt so good. We had a high level of energy, but that was because of what we did at the plate."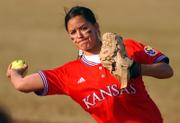 Kansas stranded 17 runners during Friday's games.
"We got a little passive up there," Bunge said. "We've got to cut down on our strikeouts."
Bakke and KU freshman Sarah Vertelka were engaged in a scoreless duel for the first five innings. But in the sixth, the Bison scored all four of their runs, an eruption that started with an errant throw to first base by KU shortstop Stevie Crisosto.
"Sarah threw five great innings," Bunge said. "That's the best she's thrown this year. Then we opened the door. Give North Dakota State credit. They got it handed to them earlier in the day."
In the Drake game, Amanda Jobe had three hits and Ally Stanton and Dougie McCaulley two apiece. Also, Val Chapple stole a pair of bases.
Today's morning games will determine the seeds for this afternoon's semifinals. The championship game will be at noon Sunday.
Copyright 2018 The Lawrence Journal-World. All rights reserved. This material may not be published, broadcast, rewritten or redistributed. We strive to uphold our values for every story published.