Oklahoma City — Given a chance to keep Oklahoma State's season alive, Mario Boggan came through with the latest in a series of clutch plays.
Boggan scored from the right block with 11.5 seconds left to give Oklahoma State a 57-56 victory over No. 7 Texas A&M; in the Big 12 tournament quarterfinals Friday night.
It was the fourth time Boggan put the Cowboys ahead in the final minute of a game this season and the second time he hit a game-winner against a ranked foe.
"It's not unbelievable if it keeps on happening," the 6-foot-7 forward said.
After Antanas Kavaliauskas missed a baseline jumper that would have stretched the second-seeded Aggies' lead to three, the Cowboys took possession and set up their last chance during a timeout with 21.3 seconds remaining.
Boggan took a feed at the right block, spun and laid the ball into the basket for the winning shot.
"Coach told us, 'Make a play at the end.' That's what it's about right here - a big-time game. I feel I'm a big-time player, so I should go out there and make a play," Boggan said. "Coach drew it up, and I just finished."
A&M;'s Josh Carter missed a three-pointer from the right corner, and Kavaliauskas couldn't connect on a jumper from the left side after grabbing the offensive rebound.
Carter missed another shot as the buzzer sounded, and Cowboys flooded onto the court to celebrate with leaping chest bumps and by popping their jerseys to a cheering crowd.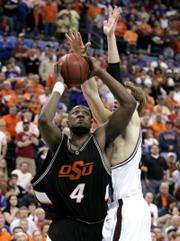 Boggan and David Monds scored 11 points apiece to lead the seventh-seeded Cowboys (21-11), who rallied from nine points down in the second half and won after trailing at halftime for only the second time in 11 chances this season.
Joseph Jones led the Aggies (25-5) with 18 points, Carter scored 14, and Acie Law had 10.
No. 15 Texas 74, Baylor 69
Oklahoma City - Kevin Durant rebounded from a dismal first half to score 29 points and grab 13 rebounds, and No. 15 Texas rallied from a 20-point deficit.
Seldom-used Craig Winder scored eight points, including a basket with 1:56 left that put the Longhorns ahead for the first time since the opening minutes, and D.J. Augustin hit a basket and two free throws in the final 18.5 seconds.
Third-seeded Texas (23-8) advanced to play seventh-seeded Oklahoma State in the semifinals today. The Longhorns and Cowboys split a pair of games earlier this season, including a triple-overtime classic won by Oklahoma State.
Copyright 2018 The Associated Press. All rights reserved. This material may not be published, broadcast, rewritten or redistributed. We strive to uphold our values for every story published.