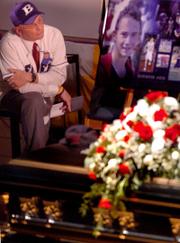 Atlanta — A college baseball player pulled from the wreckage of his team's charter bus died of his injuries Friday, raising the death toll from last week's crash to seven.
Zach Arend, 18, had been in critical condition since the bus went off a highway overpass before dawn March 2.
He died about 6 a.m., said Grady Memorial Hospital spokeswoman Denise Simpson. Arend's grandmother, Ann Miller, had said the Ohio teenager had suffered chest and abdominal injuries, a fractured pelvis and collapsed lungs.
Arend's parents, Dana and Caroline, wrote in a family statement that he was a wonderful son. "He loved baseball, and he loved being with his family and friends."
Four of Arend's Bluffton University teammates, the bus driver and the driver's wife were killed when the bus plowed off an overpass in Atlanta and crashed onto the Interstate 75 pavement below. More than two dozen others aboard were injured.
The Ohio team's coach, James Grandey, was listed in stable condition Friday in the intensive care unit at Piedmont Hospital. Two players remained hospitalized at Grady Memorial, one in critical condition and one in fair condition, Simpson said. Another player was in stable condition at Atlanta Medical Center.
On Friday night, family and friends of sophomore David Betts packed a gymnasium at Bryan High School for an emotional memorial service.
Wearing his son's Bluffton baseball jersey, John Betts told the crowd that his son was a kind, big-hearted young man. He said his son understood that it's not how long you live, but what you do with your time that counts.
A private burial is scheduled for today.
Investigators have said the driver apparently mistook an exit ramp for a highway lane, continued along it without stopping at a "T" intersection at the top of the ramp and then went over the edge.
Copyright 2017 The Associated Press. All rights reserved. This material may not be published, broadcast, rewritten or redistributed. We strive to uphold our values for every story published.