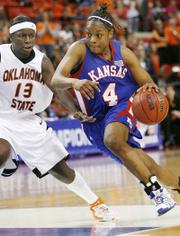 Oklahoma City — Taylor McIntosh looked the part of a prize fighter Tuesday - battered and bruised, but certainly not ready to call it a night.
Such grit leaves Kansas University's women's basketball team living for at least one more day.
Sporting a shiner under her left eye covered with white gauze, KU's junior forward scored 19 points and added 13 rebounds in KU's 71-62 Big 12 tournament victory over Oklahoma State. Eleventh-seeded Kansas (11-19) now prepares for a battle tonight with third-seeded Baylor.
Some of the credit goes toward McIntosh, who went down when struck by a Taylor Hardeman elbow to the face while setting a screen early in the second half. McIntosh came out briefly, then returned and scored 14 points in the final 15:23 of the contest.
She looked AND played the part Tuesday.
"We should've knocked her on the face a long time ago," coach Bonnie Henrickson quipped.
McIntosh used a variety of moves in racking up her career high, and the Jayhawk guards found out McIntosh was the best option thanks to Oklahoma State's spread-out zone defense after halftime.
"I feel more confident, and it starts with practice," McIntosh said. "Coach tells me you won't be comfortable shooting it in a game unless you're shooting it in practice."
McIntosh led a balanced scoring attack which included big buckets from Shaquina Mosley (18 points), Danielle McCray (16) and Kelly Kohn (14) throughout the night.
More importantly, the Jayhawks were money from the free-throw line when Oklahoma State, seeded sixth, was desperate to climb back into it with a minute to go. Kansas (11-19) drilled 10 of its last 11 charities, never allowing the Cowgirls to get close after the Jayhawks established a two-possession lead with 2:55 to go on a huge McCray three-pointer.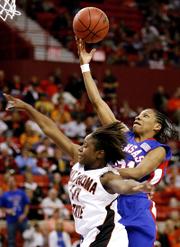 "We talk about when we get to the free-throw line, shoot with confidence and focus on making it," Henrickson said. "A lot of people that miss free throws are focusing, but they're focusing on missing it and not making it."
Kansas erased a five-point halftime deficit by feeding McIntosh and containing OSU's Andrea Riley, the Big 12 freshman of the year. Riley finished with 15 points but missed 11 shots and was called for two charges. She had just three points after halftime.
As a team, Oklahoma State (20-10) shot just 19 percent in the second half, including a horrendous 1-of-16 from three-point range.
It leaves the Cowgirls firmly on the NCAA Tournament bubble. A victory probably would have clinched it, but instead the Jayhawks continued their inspiring late-season run. Perhaps considered a lost cause after an 0-9 start to the conference season, KU now has won five of its last eight. The next test will be at 8:30 tonight against Baylor, another team KU hasn't faced since January.
The Bears might as well be facing the Jayhawks for the first time. Because they haven't seen THIS team.
"Only those of us in the locker room really understand how much better we have gotten and how good we've been with each other," Henrickson said. "They never quit on each other."
Audio Clips
2006-07 March 6 KU-OSU WHOOPS
McIntosh was all too indicative of that, after an elbow left her plenty of opportunities to call it a night. Though she had no idea what her black eye looked like during the game Tuesday - no mirrors on KU's bench, apparently - McIntosh knows it wasn't as bad as her last one.
"My freshman year, my very first game in Allen Fieldhouse," she said with a grin. "It was worse, because I couldn't open my eye. And when I finally could, coach put me back in and I got hit in the eye again. And then I had a speech a next day in class. And we had team pictures the next day."
The good news? No class today. No cameras. Just a quarterfinal game, and shiners are more than welcome.
Copyright 2018 The Lawrence Journal-World. All rights reserved. This material may not be published, broadcast, rewritten or redistributed. We strive to uphold our values for every story published.