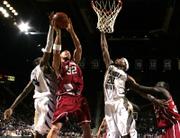 Manhattan — No offense to the home fans, but Cartier Martin really doesn't want to play in Bramlage Coliseum again.
That would mean a home date in the NIT - and while Kansas State hasn't been to the postseason since 1998, the Wildcats' senior forward said the Wildcats wouldn't be satisfied with anything less than their first NCAA Tournament berth since 1996.
"We're not shooting for the NIT, man," Martin said after scoring a career-high 30 points in Saturday's 72-61 win over Oklahoma. "I'm certain that I'm not going to play another game here."
If Martin's right, he saved his best for last.
In his first start since Feb. 13 - he's Kansas State's leading scorer but is used by first-year coach Bob Huggins as a super sub - Martin hit five threes.
He also had six rebounds and a team-high three steals, which impressed Huggins as much as Martin's offensive output did.
"If this was November, and you told me that in March I'd be sitting here saying Cartier did a heck of a job defensively, I'd look at you like you had three heads," said Huggins, who suspended Martin in the spring for poor classroom performance and didn't lift the suspension until the start of fall workouts. "But I thought he was really good tonight. That's the best I've ever seen him."
Barring an improbable run to the conference tournament title, Oklahoma will need an NIT bid to extend its run of 25 straight postseason appearances - the longest active streak in Division I.
Copyright 2018 The Associated Press. All rights reserved. This material may not be published, broadcast, rewritten or redistributed. We strive to uphold our values for every story published.