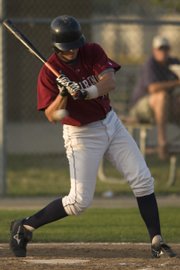 The Lawrence Raiders ran into a buzzsaw in their second game of the Al Ice Memorial Woodbat Classic.
The Raiders were held hitless by the Sam's Service Giants, yet were able to avoid a shutout in a 10-2 run-rule Legion baseball loss Friday at Ice Field.
"Right now, we're trying to get more of the execution part of hitting," Lawrence's Hunter Scheib said. "Get the guys over and score guys. Rather than trying to hit the gapper, just get a groundball to the right side and get the guy in. I think we're getting a lot better at that. But tonight, I don't know, maybe we just weren't seeing the ball or something."
Though the Raiders couldn't collect any hits, they were able to get 11 batters on base with nine walks and two hit batters.
"Overall I think we put ourselves in positions where we could have gotten right back into the game or broke it open early, but for whatever reason didn't come through," Raiders coach Shaun Edmondson said. "I wasn't disappointed with our offensive approach. I actually thought they did a really good job."
Giants starting pitcher Aaron Meade prevented the Raiders from recording a hit during his four innings, but he was responsible for six walks and plunked two batters. Meade, a lefty from Kansas City (Mo.) Rockhurst High who has signed to play for Missouri State next year, also struck out four hitters.
Scheib was the only Raider who avoided falling victim to the Giants pitching.
In three trips to the plate, Scheib saw just one strike. However, Scheib never was able to score and was stranded on third with the bases loaded and only one out in the top of the fifth inning.
"I know how important it is to get on base when he's not giving up any hits," Scheib said. "And I didn't want to swing at any pitches that would result in a pop fly or a weak ground ball. So I really wanted to sit back and wait for my pitch to come, and that didn't really happen."
The two runs scored by the Raiders were due to a pair of errors by the Giants' catcher on the same play. Jordan Guntert, who pinch-hit for Drew Hulse, and Adam Emerson, who came in to hit for Patrick Johnson, were the benefactors of the Giants' mistakes in the fourth.
The Raiders need to defeat the Ark City Black Diamonds today to make the semifinals. The teams will meet at 7:30 tonight at Hoglund Ballpark.
"We have a big theme on this team: What happens today doesn't effect anything tomorrow," Scheib said. "Everything from the day before is totally done. Whether we win, we run-rule a team or we get run-ruled, it's all gone, and everything starts over."
Hulse is slated to start on the mound for the Raiders.
Al Ice Memorial Woodbat Classic
Thursday's Games At Hoglund Ballpark
Blue Valley Jaguars 10, Kansas City Bullets 3
Sam's Service Giants 9, Arkansas City Black Diamonds 0
Wichita Sluggers 10, Ozark Merchants 0
Raiders 4, Dodge City Rangers 3
Friday's Games At Ice Field
Ark City Black Diamonds 10, Dodge City Rangers 2
Blue Valley 8, Ozark Merchants 0
Kansas City Bullets 3, Wichita Sluggers 1
Sam's Service Giants 10, Raiders 2
Today's Games At Hoglund Ballpark
Noon - Blue Valley Jaguars vs. Wichita Sluggers
2:30 p.m. - Dodge City Rangers vs. Sam's Service Giants
5 p.m. - K.C. Bullets vs. Ozark Merchants
7:30 p.m. - Raiders vs. Ark City Black Diamonds
Sunday's Games At Ice Field
9:30 a.m. - Seventh place
Noon - Fifth place
At Hoglund Ballpark
10 a.m. - Semifinal
12:30 p.m. - Semifinal
3 p.m. - Championship
Copyright 2018 The Lawrence Journal-World. All rights reserved. This material may not be published, broadcast, rewritten or redistributed. We strive to uphold our values for every story published.