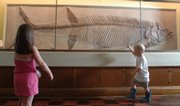 The diorama of animals on display on the first floor of the Natural History Museum at Kansas University isn't exactly cutting-edge technology, but that's OK with James Wabaunsee.
"I'm old-fashioned, so I think it's cool," said Wabaunsee, a 36-year-old Topeka resident who took his nieces to the museum Wednesday.
In some ways, the diorama, which began as a demonstration of taxidermy in the 1890s, shows the kinds of challenges facing natural history museums. The head of KU's museum said that institutions must find new ways to become relevant to the public - or risk extinction.
"Most of us are prisoners of history. We have wonderful, old, venerated exhibits," said Leonard Krishtalka, director of KU's Natural History Museum and Biodiversity Institute. "Although these dioramas are wonderful and they're great works of art, there's a lot more to learn than that a moose lives in the boreal forest."
Krishtalka was quoted in a recent Los Angeles Times article that questioned the future of the natural history museum and cited examples, in cities such as Milwaukee and Philadelphia, of museums that are bleeding money and being forced to cut staff or sell collections. What's at stake, Krishtalka said, is the possibility of losing the valuable information represented by "300 years of the biological exploration of the planet."
Despite the grim picture in other places, Krishtalka said KU's museum, which has a $2.8 million annual state budget, is fundamentally strong and is positioned to remain a leader in the field. While some museums rely heavily on collecting dollars at the door, the formula for success at KU and other state-affiliated museums is driven more by how much grant funding and top-flight researchers the museum can attract.
He said KU has the biggest "biodiversity science education" program in the country, both in terms of the number of students and in terms of external grant funding. Their work may not necessarily be on display for museum-goers to see.
For example, this week Krishtalka is traveling to Washington, D.C., to make a pitch for funding to the U.S. Department of Homeland Security for a potential study on where avian flu likely would enter the country and from what kinds of species.
"We're the only place in the country that's doing this kind of predictive modeling using biodiversity data," Krishtalka said.
He said, "The smart universities will recognize that the 21st century is the century of the environment, and the information housed in those museums is going to be the critical currency for solutions to environmental challenges. Fortunately, the University of Kansas is one of those, and we will do well."
Jerry Choate, director of the Sternberg Museum of Natural History at Fort Hays State University, said he decided long ago to charge admission at the museum so that he wouldn't be as dependent on state support. That means the museum can suffer when the economy dips, such as after Sept. 11.
Choate said his museum tries to put on exhibits that show how biology connects with other fields, such as an upcoming "Scaly Movie" exhibit that aims to debunk reptile myths perpetuated by movies.
"I don't see doom and gloom," Choate said. "I agree with (Krishtalka) that a lot of museums have bucked the tide by expanding their horizons."
Copyright 2018 The Lawrence Journal-World. All rights reserved. This material may not be published, broadcast, rewritten or redistributed. We strive to uphold our values for every story published.