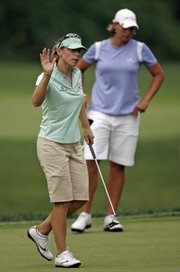 New Rochelle, N.Y — Annika Sorenstam got exactly what she wanted - and then some - in the first round of the HSBC Women's World Match Play Championship.
Making her fourth start since returning from disk injuries in her back and neck, the 36-year-old Swede outlasted 62nd-seeded Katherine Hull in 20 holes Thursday in hazy and humid conditions at Wykagyl Country Club.
"It's key for me to just get to play and the more holes the better," said Sorenstam, seeded third in the 64-player event. "It's good for me to really get some pressure on myself again. I really haven't had that this year because I really haven't been in contention or I just haven't even played."
All square after 12 holes, Sorenstam and Hull each won three of the final six holes of regulation. Sorenstam took the 219-yard 13th with a par and won the 16th and 17th with birdies, while the Australian won 14, 15 and 18 with birdies.
"It was a thriller. There was a lot of drama," said Sorenstam, a stroke-play winner at Wykagyl in 1998 and 2000.
After halving the first extra hole with a par, Sorenstam won the match with a conceded par on the par-4 second. Hull made a double bogey, hitting into two bunkers.
"I'm just going to keep giving myself opportunities and keep working hard," Hull said. "I think I can compete out here and win tournaments."
Top-seeded Lorena Ochoa easily advanced, while No. 2 Karrie Webb, major winners Cristie Kerr and Morgan Pressel and 2006 winner Brittany Lincicome were eliminated.
Ochoa, the 2006 Sybase Classic winner at Wykagyl, routed South African teenager Ashleigh Simon 6 and 5, matching the largest margin of victory in the three-year history of the event.
"It was a good day," Ochoa said. "In match play, it's always important to get off to a good start. ... I hope to keep going the same the next few days."
Charlotte Mayorkas, at No. 63 the highest seed to advance in tournament history, beat Webb with a birdie on No. 18. Down three holes after five, Mayorkas tied Webb with a birdie on No. 12.
"You've just got to stay focused," Mayorkas said. "Even though you're down, you've just got to keep going with it."
Copyright 2018 The Associated Press. All rights reserved. This material may not be published, broadcast, rewritten or redistributed. We strive to uphold our values for every story published.