Eilat, Israel — A Palestinian suicide bomber killed three Israelis at a bakery Monday in the first such attack inside the country in nine months, and the two radical groups that claimed to have sent him said they were trying to end weeks of Palestinian infighting by taking aim at Israel instead.
Israel's first response came early today. The army said its aircraft bombed a tunnel dug by Palestinians near the Gaza-Israel border that it said was intended for use by militants for an attack against Israel. No casualties were reported.
Israel has observed a truce with the Palestinians in Gaza since late November. But the airstrike signaled that the Eilat bombing put that cease-fire in danger.
The bombing was praised by the Palestinians' governing Hamas movement as legitimate resistance - a position that was sure to hurt efforts to end a crippling economic boycott imposed by the international community.
It was the first suicide bombing in this Red Sea resort of 50,000 at Israel's southern tip near the Jordanian and Egyptian borders. The town is a popular getaway for Israelis because it has been insulated from Israeli-Palestinian violence by its distance from the West Bank and Gaza Strip.
Shattered glass, body parts and blood-splattered pastries were strewn on the sidewalk outside the bakery. Two of the victims were the owners of the bakery.
A relative identified the third victim as Yisrael Zalmalloa, who emigrated to Israel from Peru. The relative, who would give only her first name, Norma, said his parents live in Miami but had no other details. U.S. Embassy officials in Tel Aviv had no information.
"It was awful - there was smoke, pieces of flesh all over the place," said Benny Mazgini, a 45-year-old witness.
Attack by hitchhiker
Eilat resident Yossi Voltinski said he picked up the attacker, who was hitchhiking on the edge of town, shortly before the attack. But he quickly grew suspicious because the man was dressed in heavy clothing on a warm day.
"He was wearing a coat closed tightly and was wearing a hat. He didn't speak Hebrew. He was very irritable," Voltinski said. "I then understood that without a doubt this was a hostile person."
He said he dropped the man off on a side road with few people and quickly alerted authorities. "From when I called the police until the explosion, no more than a few minutes elapsed," he told Channel 10 TV.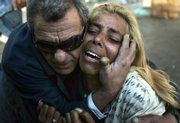 Islamic Jihad and the Al Aqsa Martyrs' Brigades claimed joint responsibility. Both militant groups said they hoped to encourage warring Palestinian factions to end weeks of clashes.
"The operation has a clear message to the Palestinian rivals. It is necessary to end the infighting and point the guns toward the occupation that has hurt the Palestinian people," a posting on the Islamic Jihad Web site said.
Palestinian truce shaky
Early today, officials from the rival Fatah and Hamas movements announced a new cease-fire. Negotiated by the two sides with Egyptian mediators at a midnight meeting, the agreement was supposed to end bloodshed that has left more than 60 Palestinians dead since early December.
But fighting continued in downtown Gaza after the truce was supposed to have taken effect. Several earlier truce agreements have broken down.
Arriving in Cairo, Abbas denounced the Eilat bombing, according to the Palestinian WAFA news agency.
Islamic Jihad identified the bomber as Mohammed Siksik, 20, from the northern Gaza town of Beit Lahiya. Relatives said Siksik was unemployed and despondent about the death of a newborn daughter from disease, and was driven to avenge his best friend's killing in fighting with Israel.
Dozens of neighbors celebrated the bombing at the family's home. Children held up pictures of Siksik brandishing an assault rifle, and a crowd chanted slogans praising him as a martyr.
Siksik's mother, Rowayda, said he left home three days ago and proudly told reporters that she knew of the attack in advance.
"He told me: Meeting God is better for me than this whole world," she said.
Underscoring the divisions in Palestinian society, gunmen from the Al Aqsa Martyrs' Brigades and Islamic Jihad got into a loud argument, each side claiming Siksik as their own.
The attack was the second suicide bombing in Israel since Hamas won Palestinian parliamentary elections a year ago. Labeled a terrorist group in the West for its anti-Israel ideology, it came under heavy criticism for making statements in support of a suicide bombing in a Tel Aviv restaurant shortly after it took power.
Copyright 2018 The Associated Press. All rights reserved. This material may not be published, broadcast, rewritten or redistributed. We strive to uphold our values for every story published.