Every once in awhile, Rachael Sudlow takes a bucket of grain and goes for a drive.
Her goal: Find photogenic cows.
The Lawrence jeweler, who studied photography at the Rhode Island School of Design, has created a series called "Cowscapes." She takes up-close photos of cows - usually their backs - that make them look like the rolling Kansas hills.
"They're not the typical picture of a cow," Sudlow says. "I got really bored with the standard kind of look."
Her "Cowscapes" photos will be part of the Downtown Friday Gallery Walk, which is from 7 p.m. to 9 p.m. Friday at eight venues downtown.
The cow photos will be at Kimbari, 822 Mass. The gallery's phone number is 842-1067, and its Web site is www.kimbari.net.
Other participating galleries are:
¢ Bella Memento Gallery, 801 1/2 Mass., 856-3050, www.dwainworkman.com, featuring Dwain Workman's digital prints, mixed media and collage.
¢ Phoenix Gallery, 919 Mass., 843-0080, www.phoenixgallery.biz, featuring Shari Dixon's jewelry derived from nature.
¢ Silver Works and More, 715 Mass., 842-1460, featuring jewelry by Ben Neubauer and mixed media by Pat Scull.
¢ Diane's Artisan Gallery, 801 1/2 Mass. 856-1155, www.dianesartisangallery.com, featuring new work from local and national artists, including cast glass by George Bucquet and jewelry by Liz Norkus.
¢ Southwest and More, 727 Mass., 843-0141, www.southwestandmore.lawrence.com, photography by Carolyn Young.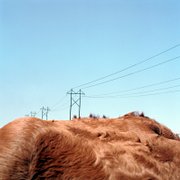 ¢ Signs of Life Gallery, 722 Mass., 830-8030, www.signsoflifegallery.com, featuring "The Gift," an exhibit by five women artists: Joan Bohlig, Sandra Bowden, Susan Hunt-Wulkowicz, Elizabeth Rowley and Heather Smith-Jones.
¢ Lawrence Arts Center, 940 N.H., 843-2787, www.lawrenceartscenter.org, featuring "Carol Ann Carter: Mapping the Interior Landscape" and "Bill Bowerman: Exploration in Scanography."
Copyright 2018 The Lawrence Journal-World. All rights reserved. This material may not be published, broadcast, rewritten or redistributed. We strive to uphold our values for every story published.