Chicago — What iPod-wearing runner hasn't gotten a little overmotivated by "Eye of the Tiger," or the power song of her choice, and accidentally snared her hands in the cords, ripping the earbuds from her bobbing noggin?
Those folks-and we're not saying we're among them-are going to have to find another excuse for tripping on the treadmill.
More companies are integrating snug pockets and cord-catching loops for MP3 players into their athletic wear, to spare the devices from flailing limbs and fumbled barbells.
Danielle Crawford, Pro Shop buyer for the East Bank Club in Chicago, estimates that half of the club membership brings an MP3 player to the gym.
"Now (hands-free iPod storage) has just hit its stride to be a common feature in clothing," Crawford says.
Most of the pockets accommodate smaller MP3 players such as the iPod Nano. Few are large enough for full-size iPods or the new iPhones. Nor would that be practical in many cases. As the size and weight increase, so does the impact on your body - not exactly a motivating force for a runner's fastest mile ever.
For men, however, Scottevest, a pioneer in tech-enabled clothing, has just launched its Performance T-shirts with ergonomic chest and hip pockets designed to withstand the weight of a regular iPod.
"We engineered a suspension system so it doesn't pull against the collar," says Scott Jordan, who launched Scottevest from Chicago before moving to Sun Valley, Idaho.
His shirts' ultra-thin QuickDry 3M fabric offers another utility bonus.
"What makes it so cool is you can control your iPod from the exterior of the fabric, so you don't have to keep reaching in and changing it," Jordan says.
For safety, many discourage exercising outdoors with an iPod. Even so, Nike has introduced its Performance Therma-fit Hat Phone ($60), a skullcap with high-quality speakers sewn in-no earbuds necessary-along with a pocket for an iPod Nano. The cap also can be used with a full-size iPod, via an included cord, if you stow the iPod elsewhere on your person.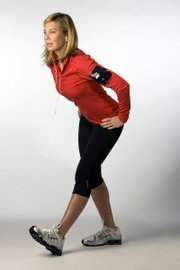 Expect more convergence between athletic wear and electronics.
"We're a very technology-driven society," says Mike May of the Sporting Goods Manufacturers Association. "If we have this conversation a year from now, we'll be a lot farther along."
The goods
¢ Scottevest SeV performance T-shirt has three hidden pockets for iPod, cell phone and keys. $34.99 .
¢ The Nike winter warm-up jacket, $70, places the iPod Nano pocket on the chest.
¢ Mari Dade, a brand for the fitness fashionista, says its iPod jacket and pants have been its best sellers since introduction. The jacket, $98, places the pocket on the arm.
¢ The Mari Dade pants, $92, have an iPod pocket on the hip.
¢ Sugoi Wired's zip top, $70, includes internal wire loops and an exterior arm pocket plus strap to eliminate iPod bouncing. The pocket is big enough for a full-size iPod. (The men's styles are similar.) The Sugoi women's knickers, $55, also have a smaller pocket on the back of the waistband, which can accommodate an iPod Nano. Worn with Nike Shox Turbo OH+ shoes, $100.
Copyright 2017 The Lawrence Journal-World. All rights reserved. This material may not be published, broadcast, rewritten or redistributed. We strive to uphold our values for every story published.