Lawrence is in the running for a $17 million expansion of the API Foils Inc. manufacturing plant in the East Hills Business Park, a project that would be expected to add 31 jobs.
Also being considered for the project is Rahway, N.J., where the company already has a larger plant and the company's U.S. corporate headquarters.
As part of their decision-making process, API Foils officials are asking Lawrence city commissioners to approve a 55 percent tax abatement on up to $17 million in building and equipment. The application does not include a time frame for the abatement, but such requests typically are for 10 years.
Commissioners are scheduled to formally receive the application Tuesday night, then forward it to the city's Administrative Review Committee for review Feb. 20. Commissioners would conduct a public hearing March 6.
API Foils will be expected to announce its site decision in June, in time to order equipment and have the project up and running by the end of 2008. The full complement of new employees would be on the job by June 2010.
"They're looking at it from both payback and costing," said Joe Souders, who works at the Lawrence plant as engineering manager. "Obviously, both communities offer incentives. The only way you know what your incentives are is if you ask what they are, and then go through the process. I'm sure those incentives will play a role in the decision."
William Piercey, vice president for finance at API Foils, said that the company was reviewing its manufacturing capabilities worldwide.
"API is seeking a tax abatement to make this long-term investment more attractive relative to other manufacturing alternatives," Piercey said, in the company's application for the tax break.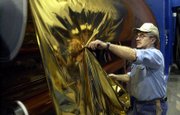 API's predecessor, Astor Universal, spent $15.8 million to open the Lawrence plant in 1995. Two years later Great Britain-based API Group bought Astor Universal - which included two other plants and three distribution centers - for $49.6 million.
The Lawrence plant makes hot-stamping foils, the materials used to put the shine on packaging for Gillette razors, decorations for Hallmark cards, labels on wine bottles, logos on baseball cards, seals on diplomas and a variety of other items.
Among the latest products commanding more material from the Lawrence plant: metallic ink, which is generated when rolls of foil are melted down to extract aluminum. The resulting flakes are used to put a shiny finish on consumer products, including Nokia phones.
The metallic ink business now accounts for at least a quarter of the Lawrence center's daily foil output of 4 million linear feet, said Rick Stanwix, plant manager. Excluding holidays, the plant runs 24 hours a day, seven days a week, which is up 40 percent from the operational pace two years ago.
Securing the expansion would be good news for the plant, Stanwix said, which has 65 employees.
"Hopefully this will relieve some of the weekend work," he said.
Stanwix said that he and Souders would be preparing documentation to evaluate the Lawrence market's expansion prospects. He acknowledged that a concern was whether Lawrence had a sufficient work force to fill 31 jobs at the plant.
According to the company's application, salaries for new jobs would range from $30,000 for operators (25 positions) to $45,000 for mechanics (three) and quality technicians (two) to $80,000 for a chemist. Hiring would be spread over three years.
Where, exactly, those jobs will be added will be up to API Group's board of directors in Great Britain.
"This will be placed in the United States, somewhere," Stanwix said. "Everybody has an equal shot at this. : We're just glad the group has shown confidence in Foils U.S., and will put this in a U.S. facility."
Copyright 2018 The Lawrence Journal-World. All rights reserved. This material may not be published, broadcast, rewritten or redistributed. We strive to uphold our values for every story published.