Topeka — Facing fierce competition from other states, Kansas has offered the use of a new state-of-the-art lab and may pitch in another $50 million to lure a $450 million federal biodefense research facility, officials said Monday.
"Securing this facility would be one of, if not the greatest economic development initiatives in state history," U.S. Sen. Pat Roberts, R-Kan., said in a speech to a joint session of the Kansas House and Senate.
Roberts kicked off a daylong show of unity on the part of state and local officials to try to lure the National Bio and Agro-Defense Facility.
The facility will focus on researching diseases that affect plants, animals and humans, and developing vaccines.
Eighteen sites in 12 states are under consideration by the federal government to replace an aging research lab on Plum Island, N.Y.
The two Kansas sites are Leavenworth, home of the Army's Fort Leavenworth, and Manhattan, home of Kansas Sate University.
Kansas in the hunt
Facts about the facility
Name: National Bio and Agro-Defense Facility.Duty: U.S. Department of Homeland Securities lab to replace aging facility on Plum Island, N.Y., will research plant, animal and human diseases, and develop vaccines.Cost: $450 million.Size: 500,000-square-foot facility on at least 30 acres.Estimated budget: $100 million annually.Staff: Approximately 300 scientists.
TIMELINE¢ Feb. 16 deadline for sites to submit reports on qualifications. Eighteen sites are under consideration.¢ Site visits by Homeland Security are scheduled for this spring.¢ Four finalists selected this summer or fall.¢ Winner announced in late 2008.¢ Construction completed between 2013 and 2015.
Kansas effort¢ The two Kansas sites are Leavenworth, home of the Army's Fort Leavenworth, and Manhattan, home of Kansas State University.¢ Task force appointed by Gov. Kathleen Sebelius to land the facility.¢ The communities and Kansas Bioscience Authority are working on incentive packages.¢ Legislation is in the works to facilitate the acquisition of land at Kansas State University, establish an interagency regulatory working group to expedite an environmental impact statement and create a joint resolution stating legislative support of the project.¢ A lobbyist may be hired to oversee Kansas' efforts in Washington, D.C.
Roberts said Kansas was well-positioned to win the lab because of the state's agricultural base, the concentration of animal health companies in the Kansas City area, recent construction of a life sciences research facility at Kansas University Medical Center and the new Biosecurity Research Institute at K-State.
"The merits are on our side," he said.
Several community leaders from Manhattan and the Leavenworth area attended the session and echoed Roberts' comments.
"We have a good shot at this if the package gets put together well," said Lansing Mayor Kenneth Bernard.
But Roberts cautioned that other states will fight just as hard as Kansas for the facility. He noted there were guests from competing states listening to his speech.
"Take good notes. Spend money. Wear a warm coat," he quipped.
New lab could help
He said the state had offered the U.S. Department of Homeland Security use of the new K-State biosecurity lab while the agency transitions from the Plum Island lab to its new facility.
"No other state can offer that incentive," Roberts said. "The Plum Island facility is in serious need of repairs. The possibility of closing it early should appeal to the federal government."
Lt. Gov. Mark Parkinson, co-chairman of a new task force to get the federal lab, and K-State and Leavenworth officials emphasized use of the new lab in Manhattan was a critical offer to the Homeland Security agency.
"That is a state-of-the-art facility that is sort of a miniature version of what they want," Parkinson said.
"We're willing to let them use that building to jump-start" locating the federal lab, K-State President Jon Wefald said.
Incentives required
The offer of use of the new state biosecurity lab will be part of the proposals made by both Manhattan and Leavenworth.
Roberts added that other financial incentives will have to be offered in the Kansas proposals.
Officials from both cities said they were willing to help the federal government with infrastructure and land needs.
Parkinson said the incentives will range from $35 million to $50 million.
Photo Gallery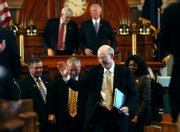 Sen. Roberts visits Topeka
"To receive an award like this, the state and the locals will have to put up a good amount of money," he said.
But if Kansas gets the federal lab, he and other officials said, the payout will be enormous.
The facility will have a $3.5 billion economic impact over 20 years, officials said.
State Rep. Kenny Wilk, R-Lansing, said if the lab came to Kansas, it would spur the development of numerous bioscience companies.
"It is one of the largest single economic opportunities we could pursue," Wilk said.
Homeland Security officials have said land acquisition, research capabilities and community support are key criteria for site selection.
The proposed 500,000-square-foot facility will have an annual budget of $100 million and require more than 300 scientists and support staff.
Copyright 2018 The Lawrence Journal-World. All rights reserved. This material may not be published, broadcast, rewritten or redistributed. We strive to uphold our values for every story published.