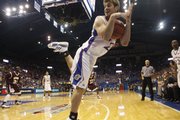 There was a time not long ago when Chase Buford doubted whether he ever would play basketball competitively again.
It was just last year when Buford was preparing for his senior season at Alamo Heights High in San Antonio, Texas. But the week before practice started, he came down with a strange affliction.
"I got really sick, and I couldn't even move," Buford said. "So, I went to the doctor, and they found out I had mono."
Buford suffered an enlarged spleen.
"That's one of the complications that comes with (mononucleosis)," he said. "So, I went back to the doctor for every two weeks until the end of the year. I just never got healthy enough to play. I wanted to numerous times, but they just wouldn't clear me."
After leading his team to a 20-12 campaign in his junior year, Buford could only look on as a spectator his senior season, and the team struggled without him. All this came on the heels of a broken ankle during football season in which he had to watch his team win the state championship.
"It was tough watching football win state knowing I would have been out there," Buford said. "But basketball was really tough because that's my sport. Watching our team struggle was hard. But it was a learning experience. I got through it."
A basketball career that seemed promising for the 6-foot-3 combo guard had no direction, with interest from Division I colleges waning.
"After that last summer, I really stopped talking to a lot of schools about scholarships," Buford said. "I was wondering whether I would even play again. Especially when I got sick, I was kind of thinking, 'What happens if I don't play again?' But I got a good opportunity to do something like this, and it was the best opportunity I could imagine."
Buford became an invited walk-on at KU - the same school his dad, R.C., helped guide to the 1988 national championship as an assistant coach.
Now, Chase is happy simply to be back in basketball shape. He wasn't cleared medically to play basketball again until a month before arriving on campus in June. That fact alone had teammates marveling at Buford's physical shape when practices began in October.
"He sits there, and sometimes you look at him because he couldn't do much with mono, and you're just like, 'How is this kid doing this right now?'" said fellow walk-on Conner Teahan, also Buford's roommate.
The true test of Buford's endurance came during a two-week stretch in late September and early October when the team went through its grueling 6 a.m. workouts that have become known as Boot Camp.
"He worked really hard," Teahan said. "He made it through Boot Camp, which had to be hard because it's not like he had all this time to be conditioning. It shows he will suck it up for the team, which is something you need."
Buford has come a long way from the days when he barely could roll out of bed. But he said he still felt compelled to disprove the naysayers, to show people he isn't here based solely on the merit of his dad, whom Jayhawk fans still revere for helping to bring a national title to Lawrence nearly 20 years ago.
So far this season, Buford has played 13 minutes over seven games. He has missed all six of his field-goal attempts - four were three-pointers - but has four rebounds.
"I feel like I have to prove myself a lot more than a lot of other people, just throughout my life," Buford said. "The only people I want to prove myself to here are the guys I'm playing with, to gain their respect. I think we've been through a lot so far, and that helps."
In just a few months, Buford already has earned high marks from his Jayhawk teammates for his work ethic, taking steps to emerge from the shadows of his dad.
"Pretty much everybody knows who (R.C.) is," Teahan said. "It has to be tough for him, but I think sooner or later, he'll make a name for himself."
Copyright 2018 The Lawrence Journal-World. All rights reserved. This material may not be published, broadcast, rewritten or redistributed. We strive to uphold our values for every story published.