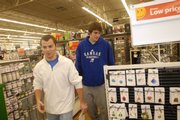 Instead of huddling around a Jayhawk on James Naismith Court Thursday night, members of the Kansas University men's basketball team huddled around a shopping cart at Wal-Mart as they prepared to give back to the community by purchasing presents for needy area families.
Each of KU's 17 players was given a family to buy holiday gifts for and was handed a list of each family's wants and needs. In total, 59 children will receive presents from the Jayhawks this year.
As the players dispersed throughout the store, they filled their carts with basketballs, Legos and Bratz dolls for children, and power tools, cooking pans and lamps for adults.
"You just try to give back to the families that don't have anything to support themselves. We just try to support them in any way that we can," senior forward Darnell Jackson said. "It shows all the guys, even coaches, that we can't take anything for granted in life."
Coach Bill Self said it was refreshing to know that the players used the shopping time to reflect.
"A lot of our guys come from situations over time that maybe they didn't experience Christmas the way that some other families do. It's important," Self said. "A lot of our guys get it, and I think that's really neat."
Like fellow seniors Jackson and Sasha Kaun, this was the fourth time doing the annual shopping event for guard Russell Robinson, and he said all the guys like having the chance to give to those in need.
"It's Christmas time, so we're in the giving spirit," he said.
The Jayhawks get some joy out of the giving, too, junior guard Mario Chalmers said.
"It's a lot of fun. You go out and try to give people the opportunity to have the same things that we had growing up. I think it helps the kids and gives them something to look for every Christmas."
Robinson said he always tries to get as many presents as possible with the allotted budget and tries to get more gifts for the youths.
"I basically get them something I would want (if) I was a kid," Robinson said before grabbing a Spiderman bicycle for a toddler.
Former Jayhawk and father of current red-shirt guard Brady Morningstar, Roger Morningstar has helped organize this KU hoops holiday tradition for more than a decade. The outing is funded by the Roundball Club with the help of Roger Morningstar and Self.
"We raise a lot of money," Self said. "It's the generosity of a lot of people that makes it possible."
Copyright 2018 The Lawrence Journal-World. All rights reserved. This material may not be published, broadcast, rewritten or redistributed. We strive to uphold our values for every story published.