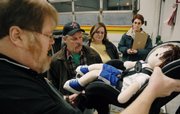 John Drees used to help save lives in emergency situations as a nurse.
As Safe Kids Douglas County coordinator, he believes his job is even more fulfilling. That's because he works to prevent those emergencies from even happening.
He works with parents, law enforcement, fire fighters and paramedics to educate and prevent childhood accidents in Douglas County.
Some of the programs that he coordinates and teaches touch on topics such as seat-belt safety, cardiopulmonary resuscitation, first aid and baby-sitting.
Drees, 47, received the Dr. Dennis Cooley Award of Excellence this week for his seven years with Safe Kids Douglas County.
Safe Kids is a nonprofit international organization that was founded in 1987 in Washington, D.C.
The award is the organization's highest honor.
"He is a model coordinator," said Cherie Sage, outreach coordinator for Safe Kids Kansas. "With the level of expertise he brings and practical skills not only being a nurse, but being a child safety passenger instructor, he just has a unique perspective and he has a wonderful way of interacting with parents doing that one-on-one education. I'm sure some of that comes from the same qualities that took him into nursing - really caring about people."
Drees, a former paramedic, attributes his success to the values he learned growing up in western Kansas.
He said he was influenced by his grandparents. His grandmother was a nurse to his grandfather, who was a doctor for 58 years in Claflin.
Drees entered the medical field when he was 16 as a high school volunteer emergency medical technician in Holcomb.
He moved to Lawrence when he was 20 and graduated from Kansas University in 1992. After a brief stint in radio, he returned to nursing school, which launched him into a career with the county's ambulance service, then with Lawrence Memorial Hospital as an emergency nurse.
Now, he's a community education specialist for the hospital and a Safe Kids coordinator.
Child passenger safety is the main focus of his job as Safe Kids coordinator. The organization conducted about 700 child safety seat inspections this year and donated about 200 child safety seats.
Drees believes the work is paying off because Douglas County has one of the highest rates of car seat usage in the state, according to surveys conducted by the Kansas Department of Transportation.
Copyright 2018 The Lawrence Journal-World. All rights reserved. This material may not be published, broadcast, rewritten or redistributed. We strive to uphold our values for every story published.