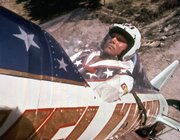 Clearwater, Fla. — Evel Knievel is dead.
That sentence probably should have been written in 1968, when the daredevil crashed his motorcycle spectacularly as he jumped the fountains at Caesar's Palace in Las Vegas and wound up in a coma.
It probably should have been written in 1974, when his rocket-powered cycle failed as he tried to jump Idaho's Snake River Canyon and he almost landed in the raging water. Or the numerous other times he battered himself while trying to jump something bigger than ever.
Instead, it was written Friday. Natural causes. Age 69.
"It's been coming for years, but you just don't expect it. Superman just doesn't die, right?" said longtime friend and promoter Billy Rundle. He's the organizer of the annual Evel Knievel Days festival in the daredevil's Butte, Mont., hometown.
Recent poor health
Rundle said Knievel had trouble breathing at his Clearwater condominium Friday and died before an ambulance could get him to a hospital.
Knievel had been in failing health for years, suffering from diabetes and idiopathic pulmonary fibrosis, an incurable condition that scarred his lungs. He had undergone a liver transplant in 1999 after nearly dying of hepatitis C, likely contracted through a blood transfusion after one of his many spills. He also suffered two strokes recently.
Immortalized in the Washington's Smithsonian Institution as "America's Legendary Daredevil," the red-white-and-blue-spangled showman became an international icon with a host of sensational jumps and bruising failures. He suffered nearly 40 broken bones before he retired in 1980.
"I think he lived 20 years longer than most people would have" after so many injuries, said his son Kelly Knievel, 47. "I think he willed himself into an extra five or six years."
'I became part of their lives'
Though Knievel dropped off the pop culture radar in the '80s, the image of the high-flying motorcyclist clad in patriotic, star-studded colors was never erased from public consciousness. He always had fans and enjoyed a resurgence in popularity in recent years.
His death came two days after it was announced that he and rapper Kanye West had settled a federal lawsuit over the use of Knievel's trademarked image in a popular West music video.
Knievel made a good living selling his autographs and endorsing products. Thousands came to Butte, Mont., every year as his legend was celebrated during the "Evel Knievel Days" festival.
"They started out watching me bust my ass, and I became part of their lives," Knievel said. "People wanted to associate with a winner, not a loser. They wanted to associate with someone who kept trying to be a winner."
"No king or prince has lived a better life," he said in a May 2006 interview with The Associated Press. "You're looking at a guy who's really done it all. And there are things I wish I had done better, not only for me but for the ones I loved."
He had a knack for outrageous yarns: "Made $60 million, spent 61. ... Lost $250,000 at blackjack once. ... Had $3 million in the bank, though."
A daredevil since childhood
He began his daredevil career in 1965 when he formed a troupe called Evel Knievel's Motorcycle Daredevils, a touring show in which he performed stunts such as riding through fire walls, jumping over live rattlesnakes and mountain lions and being towed at 200 mph behind dragster race cars.
Knievel decided to retire after a jump in the winter of 1976 in which he was again seriously injured. He suffered a concussion and broke both arms in an attempt to jump a tank full of live sharks in the Chicago Amphitheater. He continued to do smaller exhibitions around the country with his son Robbie.
Born Robert Craig Knievel in the copper mining town of Butte on Oct. 17, 1938, Knievel was raised by his grandparents. He traced his career choice back to the time he saw Joey Chitwood's Auto Daredevil Show at age 8.
Evel Knievel married hometown girlfriend, Linda Joan Bork, in 1959. They separated in the early 1990s. They had four children, Kelly, Robbie, Tracey and Alicia.
Knievel lived with his longtime partner, Krystal Kennedy-Knievel, splitting his time between their Clearwater condo and Butte. They married in 1999 and divorced a few years later but remained together. Knievel had 10 grandchildren and a great-grandchild.
Copyright 2018 The Associated Press. All rights reserved. This material may not be published, broadcast, rewritten or redistributed. We strive to uphold our values for every story published.