Stephanie Knappe, a coordinator for Kansas University's Spencer Museum of Art
Photo Gallery
Black artists honored in mural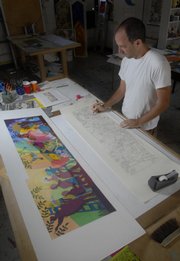 It will be one large art history book.
Think 20 feet tall by 65 feet wide, and in the middle of Downtown Lawrence.
City commissioners are set to make the image a reality. Commissioners at their Thursday morning meeting are expected to approve plans for a major mural designed to raise awareness of several black artists with Kansas ties who went on to have famed careers.
"We think it can be a real history lesson," said Carolyn Chinn Lewis, assistant director of Kansas University's Spencer Museum of Art, which is commissioning the mural as part of a national conference it is hosting on Harlem Renaissance artist Aaron Douglas.
Commissioners, as part of their consent agenda, will consider issuing a permit for Lawrence artist Dave Loewenstein to paint the mural on the northern wall of the Aquila natural gas building at the northeast corner of Ninth and New Hampshire streets.
The mural will feature the images of seven black artists who either were born in Kansas or lived in the state. They are:
¢ Aaron Douglas, a Topeka native who became one of the more influential artists in the 1920s and 1930s as part of the Harlem Renaissance art movement;
¢ Langston Hughes, a Harlem Renaissance poet who was raised in Lawrence;
¢ Gordon Parks, a photographer, author and film director who was born and raised in Fort Scott;
¢ Gwendolyn Brooks, a Pulitzer Prize-winning poet who was born in Topeka;
¢ Coleman Hawkins, a renowned jazz saxophonist who attended high school and college in Topeka;
¢ Hattie McDaniel, who was born in Wichita and became the first black performer to win an Academy Award;
¢ Oscar Micheaux, who grew up in Great Bend and is widely recognized as the first black filmmaker.
Loewenstein said work on the mural could begin as soon as Friday or Saturday. He expects to have the work finished for a Sept. 26 unveiling that will be part of the Spencer's exhibition entitled "Aaron Douglas: African American Modernist."
Downtown leaders are excited about the project, and especially its location overlooking the Downtown Lawrence Farmers Market in the 800 block of New Hampshire Street.
"We think it is a great idea," said Jane Pennington, director of Downtown Lawrence Inc. "Adding more public art to downtown is an area that we really want to look at."
The mural, which was unanimously recommended by the Lawrence Arts Commission, is expected to last at least 20 years.
Downtown art and David Lowenstein
Copyright 2018 The Lawrence Journal-World. All rights reserved. This material may not be published, broadcast, rewritten or redistributed. We strive to uphold our values for every story published.