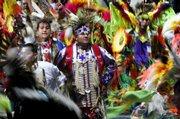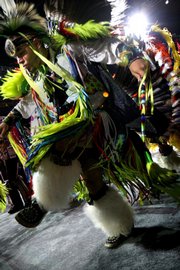 Washington — They call the drum "Desert Thunder."
A group of Native American soldiers and Marines stationed at an air base near Fallujah in western Iraq in 2004 fashioned the drum, stretching the tarp from a cot across the top of a 55-gallon barrel. They wanted to hold a powwow in the middle of the war zone, and a drum is an intrinsic part of the ceremony.
"We were missing our powwow," said Staff Sgt. Debra Mooney of the Oklahoma-based 120th Engineer Battalion of the Army National Guard, recalling the ceremony outside Fallujah. "In our hearts and minds, we were right at home."
It was an unforgettable night: "Usually, the faces of the soldiers are serious, focused and look older than they are," Mooney said. But that night, "they looked like young men and women again."
The makeshift drum was at center stage at Verizon Center Friday, where the third National Powwow is continuing this weekend. On opening day, veterans of the Iraq and Vietnam wars, some in military uniform, marched to the beat of drums as part of a tribute to the "fallen warriors" and to the troops serving in Iraq and Afghanistan.
The National Powwow, which continued through Sunday, is sponsored by the Smithsonian's National Museum of the American Indian. It takes place every two years and is one of dozens held throughout the country from spring to fall. The powwow season starts in March and extends through next month in cities across the country.
For the powwow, the Verizon Center convention floor was transformed by the presence of Native Americans from about 250 tribes. One thousand dancers, many dressed in fringed deerskin dresses and feather hats, performed a variety of dances throughout the day.
Each dance has its own history and symbolism. Some evoke movements and characteristics of animals, such as the speed and power of a horse, and others evoke such tribal rituals as pipe smoking.
Cheryl Foye Cromwell, 40, came from Massachusetts to attend the powwow. She wore tan deerskin regalia. To protect herself against evil, she crowned herself with six feathers. "They are spiritual medicine," she explained, after performing a dance called the Eastern Blanket. Draping herself in a purple-and-white blanket, she spun to the rhythm of drums.
"It's a dance that represents me as a woman," she said. "I'm representing myself as a young girl growing up and becoming a young woman, giving birth and having children and becoming the center of the family."
Cromwell's 10-year-old daughter, Dominique, had another story to tell in "the butterfly dance."
Wearing a long blue-and-green dress and three feathers in her hair and wrapped in a shiny, multicolor shawl, Dominique opened her arms wide as she twirled and hopped with 12 other children.
Daynelle Pyawasit, 16, said she could not remember how many powwows she has been to because there have been so many. But she said she considers participating a link to her heritage.
Copyright 2018 The Lawrence Journal-World. All rights reserved. This material may not be published, broadcast, rewritten or redistributed. We strive to uphold our values for every story published.