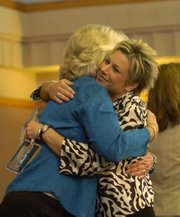 When eighth-graders Elisa Coffey and Reilly Moore got together for breakfast Friday morning, they couldn't help but smile, giggle and wonder - just a little bit - about what they'd gotten themselves into.
Sharing a stage with the mayor and a bank president, and drawing applause from the dignitaries and 250 other movers and shakers in town will do that.
"We feel inadequate getting compared to these big names," Elisa said.
The students from Central Junior High School were among 20 eighth-graders honored Friday during a reception at the Kansas Union, recognizing them for being the first class of the Lawrence Chamber of Commerce's PIECE Project.
The program - Peer Involvement Enhancing Community Effort - is an outgrowth of the chamber's Leadership Lawrence program, which had its own graduation ceremony during the breakfast reception.
Both programs are designed to foster leadership and community involvement in participants. While Leadership Lawrence's class members typically are corporate executives, government officials, leaders of community programs and others who are being groomed for appointments to boards, election to public office and assuming other organized roles, the PIECE participants still have a ways to go.
All 20 students, now in eighth-grade, will begin once-a-month PIECE classes in September as ninth-graders. And, like their adult counterparts in Leadership Lawrence, the students will learn about community institutions, public services and major employers as they hone their own leadership skills.
Jeff Novorr, a Lawrence Memorial Hospital executive who helped plan the program, introduced the students as leaders in their own right.
"None of them are fire chiefs or district attorneys or CEOs : but what they are is the future of our community," Novorr said.
Among those watching the proceedings with a proud eye was Shaun Coffey, Elisa's father. The division chief for Lawrence-Douglas County Fire & Medical is a member of the 2007 class of Leadership Lawrence, whose 30 class members formally graduated just a few minutes before the students took the stage.
Class members
Class members recognized Friday during a breakfast reception organized by the Lawrence Chamber of Commerce:
Leadership Lawrence Class of 2007: Scott Braden, Commerce Bank; Mark Bradford, Lawrence-Douglas County Fire & Medical; Charles Branson, Douglas County district attorney; Becki Carl Stutz, Plymouth Congregational Church; Hugh Carter, USB Financial Services; Shaun Coffey, Lawrence-Douglas County Fire & Medical; Sara Dawson, Charlton Manley Inc.; Debra Drummet, Capital City Bank; Marty Fairchild, Lawrence Memorial Hospital; Michelle Fales, Peoples Bank; Karin Feltman, Lawrence Memorial Hospital; Ranelle Fischer, Emprise Bank; Kerry Glasgow, KU Endowment Association; Beth Johnson, Lawrence Chamber of Commerce; Dena Johnston, TherapyWorks; Patrick Knorr, Sunflower Broadband; Heather Krase-Minnick, Douglas County District Court; Peggy Leslie, Douglas County Bank; Chad Luce, Westar Energy Inc.; Lori Madaus, city of Lawrence; Christopher Marshall, Callahan Creek; Leslie Miller, Stevens & Brand LLP; Jennifer Morgison, Capitol Federal Savings; Hal O'Donnell, Intrust Bank; Jane Pennington, Lawrence Community Theatre; Mary Rodriguez, Lawrence school district; Dick Stuntz, Alvamar Inc.; Debra Thompson, Haskell Indian Nations University; Ed Wheatly, ICL Performance Products; and Sara Wilhelm, Lawrence Journal-World.
PIECE Project Class of 2008: Morgan Banning, Owen Blackwood, Cole Carter, Elisa Coffey, Delany Dieker, Briana Edmo, Reed Grabill, Kirstyn Heine, Rachael Hodison, Erin Ice, Sara King, Stefan Kuczera, Trevor Leslie, Kaitlin McKinney, Grace Miller, Kara Mishler, Reilly Moore, Phebe Myers, Kylie Puckett and Lucas Smith.
Copyright 2018 The Lawrence Journal-World. All rights reserved. This material may not be published, broadcast, rewritten or redistributed. We strive to uphold our values for every story published.