Past Event
When: Friday, April 27, 2007, 7:30 p.m.
Where: Lied Center, 1600 Stewart Drive, KU campus, Lawrence
Cost: $7 - $10
-->
-->
Eclectic is the word that's been used most often to describe the mix of dances that will debut Friday at the Kansas University Dance Company's spring concert.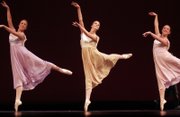 There will be a little bit of ballet, a little bit of jazz, a little bit of modern, some Baroque and even different kinds of flamenco. Diversity of dances has always been a hallmark of the company's concerts, but it's especially true this year.
"It covers an entire spectrum of work," says KU dance professor Michelle Heffner Hayes. Hayes is performing two solos and was responsible for drilling the flamenco piece set by guest artist Niurca Marquez when she came to Lawrence in February.
"I think audiences are really happy when they get a whole mix of dance. General audiences like the mix," Hayes adds.
Hayes says the work this week can be the most challenging. After drilling the dances repeatedly in one particular studio, everything must now be adapted to the Lied Center stage.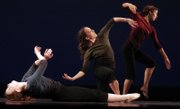 "Students get used to performing for the space. Moving it changes the whole focus," Hayes says.
This year's performance also will include works choreographed by two seniors as part of their final projects. Meggi Sweeney and Morgan Fogarty have two very different pieces that they completed in the fall and have been refining and revising for presentation. In addition to the pieces they've choreographed, Sweeney and Fogarty both perform in seven of the nine total pieces slated for the concerts.
"It definitely is exhausting sometimes," Sweeney says. "It was a busy semester."
Sweeney, from Carrolton, Mo., described her piece as internal, even introspective. It involves three dancers and is accompanied by a specially composed piece of music, which will be performed live.
"It starts out on the floor and then progresses into aerial work," she says.
The piece includes three dances that proceed one after the other from "Song," to "Scream" and then "Prayer."
"The nice thing about both Morgan's piece and my piece is that they add variety to the show," Sweeney says.
The piece set by Fogarty, from St. Charles, Ill., is put to music by Elvis Presley, and therefore has a much more fun and upbeat tempo, Sweeney says.
Amanda Shriwise, a junior from Overland Park, said that the dance itself was a mix of different styles in its own right.
"It's very eclectic in its style. It incorporates everything from jazz to modern," Shriwise says.
That piece includes four dancers doing dances, with the middle being a solo for Fogarty.
"It's a great cardio piece. It moves so much," Sweeney says.
Of the other pieces in the dance, three have some tie to Flamenco.
A group piece set to flamenco includes one of the largest groups of dancers, while the two other pieces are solos for Hayes.
One is a traditional flamenco piece that Marquez and Hayes have been working on for quite some time. Another is a more modern interpretation of Flamenco that Hayes has been working on herself. Both pieces will make their public debut at the concert.
The more traditional piece is accompanied by a piece of music especially choreographed for Hayes by Jose Luis Rodriguez, a world-renowned flamenco guitarist. Rodriguez came to Kansas with Marquez in February.
"He made the recordings while he was here, and we've had to clean them up for the performance," Hayes says. "He put all kinds of cues in it for me. It's much easier to perform to a piece that is set specifically for a dance."
While this will be the first appearance for Hayes' dances, she plans for it certainly not to be the last. She'll be performing the interpretation at a dance festival in south Florida this summer, and she hopes to perform the traditional piece there as well.
"It takes so many manpower hours to put it together," Hayes says. "I'm going to try and give this dance a life and do it in the future."
Copyright 2018 The Lawrence Journal-World. All rights reserved. This material may not be published, broadcast, rewritten or redistributed. We strive to uphold our values for every story published.