Leo Posch has his teeth, is smart enough to carry on a conversation and doesn't drool.
You'd never know he's a banjo player.
Posch, who lives near McLouth, plays with the Lawrence-based Midday Ramblers.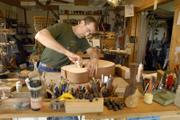 He's heard just about every banjo joke out there. And he thinks he knows why people tell them.
"Everybody's jealous of the banjo. It's so perfect," he explains. "They make up jokes because it makes themselves feel better."
Pause.
Laugh.
"But back to the real truth ..."
The banjo joke is as much a part of bluegrass and old-time music as blue jeans and "Orange Blossom Special."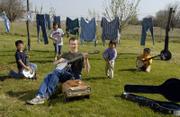 Lawrence writer Eric Weslander started to realize that when he began sitting in as the guest mandolin player with local band The Prairie Acre.
Now he has penned "Pickin' on the Banjo," a compilation of banjo jokes he thinks may be the world's first.
Weslander says the book was inspired, in part, by "sadistic glee." He admits to - gasp! - having a few banjo-playing friends himself.
An audio presentation of banjo music and jokes by author Eric Weslander.
Weslander, a reporter at the Journal-World, self-published the book through Rabbit Hash Press in Lawrence.
Where to get it
"Pickin' on the Banjo," by Eric Weslander ($8, Rabbit Hash Press), is available at www.thebanjobook.com and at The Raven Bookstore, 6 E. Seventh St.
'Badge of honor'
After he got the idea for the book, Weslander started categorizing the jokes. Among the genres:
¢ Drool jokes. Example: What did the banjo player get on his IQ test? Drool.
¢ "All songs sound the same" jokes. Example: What's the difference between a banjo and the garbage disposal? The garbage disposal makes a variety of sounds, depending on what you put into it.
¢ "Songs go on forever" jokes. Example: Why did the banjo player get fired from his job? His breaks went on way too long.
¢ "Can't tune it" jokes. Example: What's the definition of perfect pitch? Throwing a banjo in a trash can and hitting another banjo.
In addition to the jokes, the book includes features such as banjo bumper stickers, a list of fictional, historical banjo players (think "Ivan the Terrible Musician") and the comic book-style "Adventures of Banjoman."
Weslander admits some of the jokes are pretty mean. So will he alienate his banjo-playing friends by publishing the book?
"I don't think so," he says. "No. 1, many banjo players can't read, so they'll never get wind of the book. No. 2, this is a genre that's not considered threatening by banjo players. They wear it as a badge of honor."
Why the banjo?
Jim Krause has a theory about why there are so many banjo jokes: evil, plotting guitarists.
"There are a lot more guitar players than banjo players," he says. "You're a minority there."
Krause - who lives in Lawrence, teaches banjo at Americana Music Academy and plays in the Euphoria String Band - says banjo players have yet to be protected in a world striving for political correctness.
"There are lots of types of political humor that aren't acceptable nowadays," he says. "Banjo players are the last class of people you can pick on without getting in trouble."
There may be some serious, historical reasons why the banjo has gained its reputation, says Mark Franzke, a Prairie Village resident who maintains the site www.banjodog.com.
He notes that the banjo is the only instrument in a traditional bluegrass band that wasn't inspired by a European classical instrument. Instead, it came over from Africa with slaves.
"It wasn't a carefully crafted instrument like a violin, guitar or mandolin," Franzke says. "They were handmade for the most part, and kind of crude. Because of that they were seen as unsophisticated. And the types of jokes that are told, a lot of them have to do with the hillbilly."
Franzke, who is a former Lawrence resident and still plays for barn dances here, says it's more difficult to tune banjos than other instruments, and they're just naturally louder than the competing strings.
For all those reasons, he sometimes tires of hearing banjo jokes, which he says often can be interchanged for jokes about other instruments - say, accordions, bagpipes or drums.
"Banjo players, for the most part, tell the jokes also, and laugh at them," Franzke says. "I don't think anyone takes it too seriously."
Banjo fan
Weslander says he enjoys both banjo jokes and, despite his book, banjo music.
"I love the sound of a well-played banjo," he says. "Really, the music of the banjo is not as bad as the jokes make it out to be. But when it's played poorly, it can be excruciating."
That's partly why Krause doesn't bother telling the jokes to his students at Americana Music Academy, 1419 Mass. He figures they should be spared those stereotypes early on, and they'll probably hear the jokes eventually anyway.
But he does give them an admonition.
"I tell them: 'Tune it or die,'" Krause says. "And it'll be death by humor."
Copyright 2018 The Lawrence Journal-World. All rights reserved. This material may not be published, broadcast, rewritten or redistributed. We strive to uphold our values for every story published.