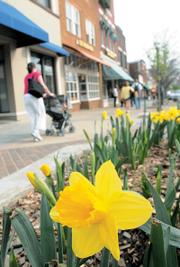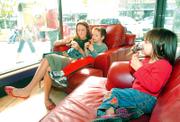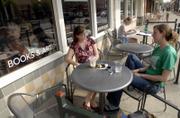 It's a perennial hot-button issue in Lawrence: Should we let businesses pop up as the market dictates, or should we control the growth with an eye on broader concerns about quality of life?
In recent years, many of those debates have focused on preserving downtown, with its unique blend of retail shops, restaurants and bars. The past year has been no exception, as a growth-oriented city election, a visit from a team of planning consultants and a variety of retail developments planned for West Sixth Street have kept the spotlight on the question of where in Lawrence people will be spending their dollars in years to come.
Pretty much everyone can agree on one thing: Downtown is a special place, but it's not the only game in town.
"Downtown is just one of several commercial districts. It has obviously become a smaller share of the pie," said Kirk McClure, a Kansas University associate professor of urban planning. "South Iowa now dwarfs downtown not only in terms of square footage but in terms of where we believe the dollars are going... As a retail destination, South Iowa is a bigger, stronger and in many ways healthier district than is downtown."
Philip R. Ernst, owner of Ernst & Son Hardware, 826 Mass., remembers the time when downtown was the place for buyers to meet all their needs.
"Forty years ago if you wanted to shop in Lawrence, you had to come downtown." he said. "There were six hardware stores downtown then."
Today, his type of shop, one supplying everyday necessities, is more the exception than the norm along Massachusetts Street.
Overall, just 18 percent of Lawrence's retail spending happens downtown, according to Rod Stevens, a retail analyst who visited town in February as part of a consulting team that drafted a vision for what the city might look like in years ahead.
The team said a downtown grocery store would help make downtown the type of old-style traditional neighborhood that many people have been longing for, rather than primarily a novelty shopping destination. Days later, a group of entrepreneurs confirmed that they're planning to open an organic market in the former Casbah location at 803 Mass.
"We're looking at something comparable to a New York-style market," Cassy Ainsworth said. "Something quick that you can get in and out of and meet your basic needs."
As downtown evolves, a variety of developments planned for western Lawrence have the potential to add new features to the city's retail landscape. Plans to build a new Wal-Mart at Sixth Street and Wakarusa Drive have been tied up in the local courts for years, as developers challenge the city's denial of building permits for the store.
Other projects planned for the area:
¢ Northgate: in late March, the Lawrence-Douglas County Planning Commission approved the first phase of a development on the southeast corner of Sixth Street and the South Lawrence Trafficway. The plan includes 30,000 square feet of retail space in its first phase. Later phases include an additional 165,000 square feet of retail space.
¢ Mercato: In August, developers who own 45 acres of commercially zoned property at the northeast corner of Sixth Street and the South Lawrence Trafficway filed their most detailed plans yet for a new shopping and office center that will accommodate at least one big-box store and several smaller shops or restaurants.
But in late 2006, the city commission tabled the subject and put it off for six months, in time for the new commission to be seated.
¢ Bauer Farms: A 43-acre site envisioned for the northeast corner of Sixth and Wakarusa would include 61,350 square feet of retail space that is being billed as a "Village Market," along with homes, aparments and office space. The idea is to recreate the feel of traditional neighborhoods prior to the suburban model that emerged in the 1950s.
To hear McClure tell it, all this means that downtown is at risk.
"Downtown needs to be preserved and protected. We are, unfortunately, taking steps to hurt it," he said. "We are now building stores so rapidly on west Sixth Street that there aren't enough leases for both sides to win... I do think it's probable that the western part of the city will win out over downtown, and I think that is a mistake we could prevent by simply slowing down the pace of growth."
McClure isn't alone with his concern. The city's planning staff has been urging the commission to adopt a plan that would require retail projects of 50,000 square feet or more to go through a "retail market analysis" before being approved by the city.
But that kind of policy is strongly opposed by members of Lawrence's development community, who argue that market forces should shape what businesses go where and say Lawrence is losing out on sales-tax dollars- a key piece of the city's budget - to other communities. They also point out that downtown has remained viable as a destination despite the growth of retail spaces on South Iowa in the past decade.
"Nobody wants to hurt downtown. Everyone realizes it's a jewel for this city," developer Greg DiVilbiss said. "The reality is that markets change. If you've got an idea that works, people are going to go there."
Copyright 2018 The Lawrence Journal-World. All rights reserved. This material may not be published, broadcast, rewritten or redistributed. We strive to uphold our values for every story published.