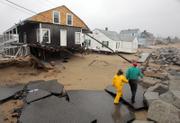 New York — A menacing spring storm punished the Northeast for a second straight day Monday, dumping more than 8 inches of rain on Central Park and sending refrigerators and pickup trucks floating down rivers in one of the region's worst storms in recent memory.
"This one is really a horror show," Gov. Eliot Spitzer said after touring hard-hit areas north of New York City.
The nor'easter left a huge swath of devastation, from the beaches of South Carolina to the mountains of Maine. It knocked out power to hundreds of thousands of people and was blamed for at least 12 deaths nationwide, including a New Jersey man who drowned inside a car.
The storm showed no immediate sign of letting up. The National Weather Service predicted showers through Wednesday night in the New York City area, with rain mixed with snow at times.
The storm was especially harsh in the Westchester County suburbs north of New York City and in New Jersey, where the state was placed under a state of emergency and more than 1,400 residents were evacuated - many by boat.
Vermont got about 17 inches of snow, with flakes still falling Monday across sections of Pennsylvania, New York and Maine.
"We have incredible amounts of damage," said Steve Costello, a spokesman for Central Vermont Public Service, describing power lines brought down by high wind. "I've never seen anything like it."
New Jersey authorities called it the worst storm to hit the state in 15 years. Five homes burned down in one town after fire crews could not reach the buildings because of floodwaters.
"There was debris flowing down the river like you wouldn't believe - refrigerators, I mean, you name it, it was going down the river," said homeowner John Vitro, whose basement at one point had water 5 feet high.
Wind gusts registered 60 mph near Boston, where runners had to contend with rain and 52 mph winds during the Boston Marathon.
Gusts exceeding 80 mph in Maine toppled trees and drove rain that flooded roads and sank boats. In New Hampshire, a landslide forced the closure of part of the state's major east-west route, and winds blew out windows on oceanfront stores.
In Maine, a woman and her 4-year-old granddaughter died when they were swept into a river by the fast-moving floodwaters as they tried to cross a washed-out section of road in Lebanon, near the New Hampshire line, the Maine Warden Service reported.
A 52-year-old man died in a car stalled in deep water in an underpass in New Jersey, while a 79-year-old man also drowned a flooded street. Another person was killed by a tornado in South Carolina, and two died in car accidents - one in upstate New York and one in Connecticut.
The same storm was blamed for five deaths earlier in Texas and Kansas.
Copyright 2018 The Associated Press. All rights reserved. This material may not be published, broadcast, rewritten or redistributed. We strive to uphold our values for every story published.