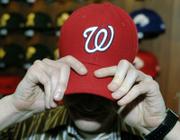 Pity the wool baseball cap.
It didn't stand a chance, utterly alone as it was, with vanquished woolen sportswear littering the playing fields all around it: football jerseys, hockey sweaters, ski jackets, golf pants and the like.
Wool versus the newcomers
Major League Baseball is replacing its wool caps with polyester-blend hats this year. What's the difference between the two?
WoolAs a natural fiber, wool can shrink or stretch to fit conditions."When you look under a microscope, the fibers are like an asparagus, with cuticles that interlock," says Rita Samuelson, marketing director for the American Wool Council. "It does all this multitasking that manmade fiber does not," Samuelson said.But New Era, the cap manufacturer, says wool doesn't wick sweat as well as some manmade fibers - something pro ballplayers need.
The new polyester blendNew Era, the cap manufacturer, says the new poly-blend caps will offer better "moisture management."And it is true they won't shrink or stretch; the shape and size in which they arrive is the shape and size they'll stay. The company sees that as a plus, though some civilians, who like to shape their own hats, may disagree.
Each had long ago succumbed to a tide of manmade textiles boasting superlative stretchiness, stain resistance, insulation, water repellence - innovations that spawned revolutions in sports fashion and fabric terminology alike. (Doubtful that Honus Wagner ever pondered the "breatheability" and "wicking" abilities of his famously rumpled lid.)
This was never a fair fight, really. How could simple old wool compete with fabric named Gore-Tex or Lycra, Coolmax or Kevlar?
So it shouldn't have surprised anyone this winter when Major League Baseball quietly announced it was tossing the wool cap for good. New Era Cap Co., the Buffalo, N.Y.-based manufacturer of baseball's signature vestment for decades, declared that a new polyester-blend model would debut on opening day.
Still, wool and baseball were interwoven some 150-odd years, from the day the New York Knickerbockers switched from straw to merino until last Oct. 27, when a summer's toil could be traced in the salt-stained caps of the St. Louis Cardinals as they celebrated winning the World Series. But with stain-resistant polyester, those saline smudges will besmirch baseball no longer.
The switch went off with nothing close to the griping that accompanied the NBA's ill-fated introduction of a microfiber basketball this season.
Cap claims
Perhaps that's because New Era put its product through a two-year, off-field testing period that included input from dozens of players. In fact, the cap was conceived, designed and implemented with a sole purpose - to perform better on the diamond, said John DeWaal, vice president of brand communications for New Era.
"It was something we determined a while ago: that we needed to keep up with what was going on in the sports apparel world," DeWaal said. "We needed that kind of moisture management and performance in our caps."
New Era and MLB argue that the new caps do a better job of wicking sweat from the brim and distributing it to the crown, where surface-area exposure evaporates it more quickly. The caps don't shrink or stretch like wool, retain their color and shape, resist stains and odor, and ultimately last longer - or so the thinking goes.
In the strict context of on-field performance, it's difficult to imagine players quibbling with any of these claims.
Will fans follow?
But considering the authentic baseball cap's workaday role in the uniform of the modern American man - as a fashion statement, declaration of territorial loyalty, baldness camouflage, bad hair day remedy, and occasional grooming substitute - it's remarkable how little resistance New Era met when announcing what amounted to a sartorial sea change.
"Tomorrow we'll have had them out for a week, and in that time I haven't heard anything bad about them," said Chris Lind, assistant manager of the Lids store at the Mall of America in Bloomington, Minn.
Lind said his store, part of a national chain that sells only baseball caps, rolled out the polyester caps on March 30; they still aren't sure what to do with their stock of the old woolies, which aren't on the shelves at the moment.
"Either they're going to get discounted," he said, "or be sent back to the warehouse."
While New Era will continue to make some of its "fashion" caps out of wool, the better part of its business springs from fans' desire to don the exact same model - stitch for stitch - as their heroes on the diamond. From a business perspective, the immediate impact of the change may only be felt by New Era's wool suppliers; the larger consequence for wool producers comes in the form of perception.
"It's significant in the visibility that it's had," said Rita Samuelson, marketing director for the American Wool Council, a nonprofit association representing U.S. sheep ranchers. "It was one of the last places in sports where wool was used, and so many people are now hearing that wool is being replaced by high-performance fiber.
"But wool, to me, is a high-performance fiber, and a natural one. Wool naturally absorbs moisture, and it breathes. That's why it's performed so well over time."
Not the same
Samuelson knows of at least one wool producer in Canada that may have to shutter its mill with the decreased demand. And the change has done little to help wool's reputation as a scratchy, old-fashioned fiber that's ill suited for our daily duds. It's a shame, she says, because no matter how advanced manmade fibers become, there are still things wool fibers can do that plastic cannot, such as the ability to shrink and stretch to fit conditions.
Some civilians may have trouble getting used to that.
"Forming-wise, basically your only option is to bend the bill," Lind said. "There's no way to form the material like with wool," which can be easily manipulated with steaming or repeat wearing.
There are a few other subtle changes in the new hats: The new caps have switched from a white band (which soils almost immediately) and light gray underbill to black in both places. And the price has gone up, from $29 suggested retail to $32.
But DeWaal quickly dispels any notion that the switch had to do with the bottom line.
"The way we make the new cap is no less expensive by any means," he said. "It's more expensive, between the sweatband, the visorboard and all parts of the system that have changed and become performance-enhanced."
And to that end, he says, there really was little competition at all.
"We still make millions of wool caps, and will continue to do so," DeWaal said. "This really all started from a player perspective. First and foremost, being the authentic suppliers for the players, that was the impetus for the change: what the cap was doing on the field."
Copyright 2018 The Associated Press. All rights reserved. This material may not be published, broadcast, rewritten or redistributed. We strive to uphold our values for every story published.