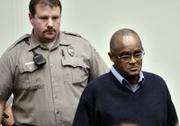 Kansas City, Mo. — A serial killer twice changed Timothy Barry's life. His wife was killed two decades ago, and one of his sons committed suicide three months after the killer's April 2004 arrest.
On Friday, Barry told Lorenzo Gilyard what he thought of him before Judge John O'Malley sentenced Gilyard to six life terms.
"This hasn't been a life of happiness, a life of pleasure," Barry said. "It's been a life we've had to endure."
The sentence was the only one possible after Gilyard, 56, was convicted last month of killing six women.
"He's forfeited any right to live here among the rest of us," O'Malley said. "That's the comfort we can derive."
Prosecutors agreed in January not to seek the death penalty against Gilyard, as long as Gilyard's lawyers agreed to a trial before a judge without a jury. His attorneys also agreed to give up nearly all of their client's appeal rights.
During the trial, O'Malley acquitted Gilyard of a seventh count of murder.
Gilyard, a former trash company supervisor, had faced 13 counts of murder, but six of those counts - including one stemming from the death of an Austrian woman - were dropped as the trial got under way.
Prosecutor Jim Kanatzar said his office is still reviewing the six dismissed cases to determine whether to refile them.
Struggling with sorrow
Barry, whose wife, Catherine Barry, was the only victim not a prostitute, said the trial provided his family with a "small measure of justice." He continued: "They let us put a face on this animal."
Barry's eldest child, Dawn Knox, told the court that her middle brother had always struggled with his mother's death and had her initials tattooed over his heart. She said her brother didn't know how to cope after Gilyard was arrested.
"My only comfort is they are together now," Knox said.
Barry's sister, Tricia Mitchell, said her sister was always caring for someone - first her siblings, then her own children. She said Barry was thrust into the roll off caregiver while still a toddler because their father was neglectful and often abusive.
"I would remember how, after some of the beatings, I felt the world would be better off without me," she said, crying. "Catherine would always tell me that was not true and that she needed me. Together we would make it."
But in adulthood, she recalled, her sister began to slip into mental illness. Barry, a mother of three, walked the streets and accepted rides from strangers so she could share her religious faith with them. Mitchell wore a cross around her neck because her sister was wearing a cross when her body was found on March 14, 1986.
Other families told similar stories, including Bessie Kelly, who recalled identifying the body of her sister, Naomi Kelly, in August 1986. She said her sister had been attending business college and caring for her two children. One of those children is dead.
"The one thing I hate the most is that Naomi never got to raise her children," Kelly said.
Outside the courtroom, Kanatzar said the sentence provided justice for the victims and the community.
"I'd like to think that the citizens of Jackson County can sleep a little safer tonight knowing the person who is responsible for these deaths and murders is behind bars, and will be for the rest of his life," Kanatzar said.
DNA evidence
Gilyard was linked to the killings in 2004 when police crime lab workers tested evidence from old unsolved cases.
His trial got under way March 5, with prosecutors pursuing charges in what they considered the seven strongest cases. Those seven victims were killed in 1986 and 1987.
Much of the testimony during the trial dealt with DNA evidence. Prosecutors said Gilyard's semen was found on six of the women.
The defense contended the evidence merely proved Gilyard had sex with the women - but not that he killed them.
The sole acquittal was for the killing of Angela Mayhew, 19, whose body was found Sept. 12, 1987. Hers was the only body that didn't contain semen, though one of Gilyard's hairs was found on her sweater.
Defense attorney Tom Jacquinot said Gilyard plans to appeal.
"Mr. Gilyard to this day still maintains his innocence, though he certainly does empathize with the family," Jacquinot said.
Copyright 2017 The Associated Press. All rights reserved. This material may not be published, broadcast, rewritten or redistributed. We strive to uphold our values for every story published.