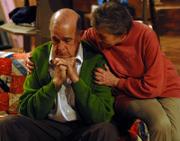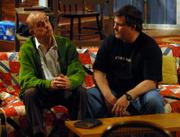 'On Golden Pond'
When: Tonight through April 29. Showtimes are 8 p.m. Fridays and Saturdays, 7:30 p.m. Thursdays and 2:30 p.m. Sundays.Where: Lawrence Community Theatre, 1501 N.H.Tickets: $14-$20Ticket info: 843-7469
Betty Laird isn't Katharine Hepburn.
She doesn't even want to be.
So forgive her if she shows a little frustration when you compare her role of Ethel Thayer in "On Golden Pond" to that played by Hepburn in the well-known film by the same title.
"What I don't like is when people say, 'Oh, you're playing Katharine Hepburn,'" Laird says. "I'm not playing Katharine Hepburn, damn it. I'm playing Ethel."
It can be a challenge to portray a role on stage that so many people have seen on the big screen.
But that's the challenge faced by the six-member cast of "On Golden Pond," which opens tonight at Lawrence Community Theatre, 1501 N.H., and runs through April 29.
The 1981 film "On Golden Pond" featured Hepburn, Henry Fonda and Jane Fonda in the lead roles. Hepburn won an Oscar for Best Actress, and Henry Fonda won an Oscar for Best Actor. It was the only film in which Henry and daughter Jane Fonda appeared together, and it was Henry Fonda's final film - he died shortly after its release.
The story follows 80-year-old Norman Thayer (Henry Fonda's role in the film) as he and his wife, Ethel, spend their 44th consecutive summer at Golden Pond, their summer retreat. Norman feels he's approaching death.
But the summer plans change when estranged daughter Chelsea (played by Jane Fonda in the film) shows up at the pond with her boyfriend, Bill. Chelsea and Bill are planning a trip to Europe and want to leave Bill's son, Billy, at the pond with Norman and Ethel.
Through his interactions with Billy - and ultimately his reconnection with his daughter - Norman rediscovers his joy for life.
"It's a play about relationships," says Jack Wright, the Kansas University professor who is directing the production.
Wright says those relationships are re-created every time the show is staged. He doesn't think about the movie when it comes to directing the performance.
"It's not a concern for any of us - me or the cast," Wright says. "When you start working on the play, you realize how wonderful a play it is. The relationships with the characters take all of that other movie business away."
But that doesn't mean the audience won't come in with preconceived notions of the story.
"The actors have to derail that," Wright says. "We hope a few minutes into it, they'll think about our Norman and our Ethel."
Laird says she hasn't seen the movie recently, and she tries to chase away any memories she has of it.
"I try to forget it," she says. "The few lines that are memorable, I just say, 'Go away! Go away!'"
Dean Bevan, who plays Norman, took another approach. He watched the movie in the fall before auditions.
"I wanted to forget the details and leave an abstract notion of what Henry Fonda had done," Bevan says. "I didn't want to redo his performance, but it's helpful to see what he had done."
Bevan, like Laird, has dealt with people identifying his role with the actor Fonda, not the character Norman.
"I understand why they'd say that," Bevan says. "Henry Fonda is an icon, and everybody in the world saw the movie."
Peggy Sampson, who plays daughter Chelsea, has a slightly different issue. She says Chelsea's role was tweaked to make Jane Fonda a more pivotal part of the film.
"I think we all made that decision not to feel the pressure," Sampson says, "We don't have to be Katharine Hepburn or Henry Fonda."
And she's hoping audience members feel the same way.
"I think the movie was so popular and so well-known, they can't help but bring something with them," Sampson says. "But after five or 10 minutes, hopefully they'll leave it at the door. We want to create our own experience."
Copyright 2017 The Lawrence Journal-World. All rights reserved. This material may not be published, broadcast, rewritten or redistributed. We strive to uphold our values for every story published.