Lawrence and a wide swath of eastern Kansas and western Missouri will become a national heritage area highlighting the region's Civil War history, under legislation approved by Congress on Friday.
The news left tourism and other officials here beaming.
"It's a huge, huge thing for us - because of the credibility and the resources that come with being designated, and the recognition nationally that we are a story that needs to be enhanced and brought to greater awareness," said Judy Billings, director of the Lawrence Convention & Visitors Bureau and executive vice president of the Lawrence Chamber of Commerce. She has led the four-year local effort promoting the legislation.
Heritage areas can qualify for up to $10 million over 15 years in federal funds, though funds won't begin flowing until a management plan is completed and approved by the Secretary of Interior.
Once that happens, planners will budget money to improve and enhance exhibits at museums and historic sites, Billings said. New projects, like developing the riverfront in Lawrence or building a bike trail connecting historic sites, may also be considered, she said.
Though the bill originally applied only to Kansas, a dozen Missouri counties were later added to expand its scope.
"This legislation will not only preserve and showcase the pivotal history of our state and the subsequent contribution Kansas made to the nation, but it will also serve as a tool to promote economic development through travel and tourism for our state," U.S. Sen. Sam Brownback said.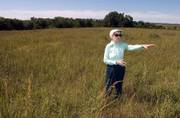 The region joins at least 24 other national heritage areas around the country where federal, state and local officials work to conserve historic landscapes and cultures.
"It's really a breakthrough for the state," Billings said.
The heritage area includes Lawrence and Douglas County, along with 28 other counties in eastern Kansas and 12 in western Missouri.
The National Park Service describes each heritage area as a settled landscape that tells the story of its residents and how the landscape's land and local environment, over time, has shaped traditions and cultural values in the people who live there.
"We have a lot of development to do," Billings said. "It will take a long time, and it will never stop."
Copyright 2018 The Lawrence Journal-World. All rights reserved. This material may not be published, broadcast, rewritten or redistributed. We strive to uphold our values for every story published.