They're back.
Just as mysteriously as they disappeared, the nets cut from the soccer goal posts earlier this week at the Youth Sports Complex showed up early Thursday morning stuffed in a garbage bag on the front lawn of Pat Lindeman, equipment coordinator for Kaw Valley Soccer Assn.
Along with the nets was an envelope containing a note of apology and $50 in cash.
"It said, 'I'm sorry. I intended to return these from the start,'" Lindeman said, reading from the note. "'I didn't know the complications that would follow. Please accept this $50 donation for repairs.'"
The nets were stolen overnight Monday from the YSI soccer fields. The thefts initially put this weekend's KVSA games in jeopardy and led to an order for speedy delivery of replacement nets. The Lawrence Luncheon Optimists donated $1,000 to help pay for the new nets.
"Now it's feast or famine all of a sudden," said Gunar Harmon, KVSA office administrator.
The new nets will be kept as future replacements, but the Optimists will have the opportunity to take their money back, said Brad Williams, vice president of the soccer association.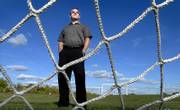 This weekend's soccer games, typically involving players ages 4 through 10, will go on.
The incident still has Williams and Harmon wondering what was behind the thefts. They noted that somebody went to a lot of time and effort to take the nets. They think the publicity and the Lawrence community's uproar over the incident made an impression on the culprit or culprits.
"It was obviously someone who didn't realize the impact that it would have on those kids and those fields," Williams said.
Harmon agreed.
"At the very least, somebody had a very narrow view of the consequences of their behavior," Harmon said. "Somebody recognized the error of their ways, and for that we are grateful."
The returned nets are to be put back on the goals today, Harmon said.
Copyright 2018 The Lawrence Journal-World. All rights reserved. This material may not be published, broadcast, rewritten or redistributed. We strive to uphold our values for every story published.