When Steve Julian's mother died last September, she received a quilt to help comfort her in her last days at Lawrence Memorial Hospital.
On Thursday, as Julian himself neared death due to stomach cancer, his wife, Vicki, held tight to a similar quilt.
It's helping her get through the tough times.
"Steve kept that quilt of his mother's, and it was an extremely important part of his life," Vicki Julian said. "He wanted to make sure I got a quilt, too. I put it on him awhile, just to have his scent. It's just a little piece of him I'll have."
For the past year, the quilts have been regularly distributed to patients in the Palliative Care Unit at LMH, where patients who have terminal diseases are made comfortable during their dying days.
They're made by a group of about 10 women at Central United Methodist Church, 1501 Mass., who work on the quilts at home and get together once a month to put on the finishing touches together.
"You feel like you're doing something worthwhile," said Lorene Davison, one of the volunteers.
The effort has made a difference for patients, said Dorothy Kurtz, a nurse on the LMH unit.
"They can cuddle up with the quilt," Kurtz said. "It makes the hospital environment seem more habitable. It softens up the hospital."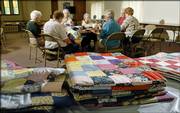 The idea for the quilts came about three years ago, when a church member donated scraps of fabric to the church.
The women began making the quilts but didn't have a regular outlet for them. Mainly, they went to church members.
But then Vera Hadl, a church member and quilter who also volunteers at the LMH gift shop, talked with the hospital's volunteer coordinator, who said the group was looking for someone to make quilts for the Palliative Care Unit.
Now, they call them "comfort quilts."
The quilts made at Central United Methodist are lap quilts, designed to warm someone sitting in a wheelchair without getting tangled up in the wheels. They're about 3 feet by 4 feet, with 120 blocks of fabric on each.
Some are designed with more blues or farm animals for the men. Others have more pinks and reds for the women.
Most are made with donated material, though LMH now has an endowment fund to help supply fabric, thread and batting. Some families choose to suggest memorial funds go to help the quilt effort.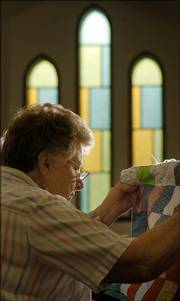 In all, it takes more than six hours for each quilt to be completed. The women make 12 to 15 a month.
"When I get down to two, I call up Vera and, like magic, she shows up with 10 the same day," Kurtz said.
'Personal gift'
Sometimes, the quilts go to patients who aren't on the Palliative Care Floor. Nurses who care for stroke patients, for example, know where they're stashed.
"I told (Kurtz), 'Don't keep anything back. Just be real generous,'" Hadl said.
The thank-you notes the group has received are more than enough to keep them going each month.
"It's a personal gift," said Lorene Davison, one of the volunteers. "You just touch a part of their heart."
Hadl said she thought the quilts might brighten the spirits of those who have terminal illnesses.
"I don't think we can understand, not having been through that," she said. "But they know they're not coming out of there, and there's just something about all of this color that touches all the patients. I don't know if I can talk about it without crying."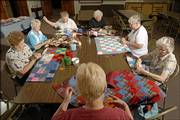 Tears started to stream down her face.
"I don't know what it is," she said, "but it's something."
'Loving thing'
But the quilt-making sessions aren't all work.
"We enjoy just sitting here and shooting the breeze," Erma Worley said. "It's pretty easy work."
Even at home, Worley said, she appreciates the work.
"I like to keep my hands busy, even if I'm watching TV," she said.
The group is considering expanding their sewing repertoire to include pouches to hang on the front of walkers. Several prototypes already have been made.
"It's wonderful, kind thing they're doing for people," Kurtz said. "I hope it's bringing them comfort, too. It's like throwing a stone in a pond with these quilts. It really trickles out."
That's the way it's been for Vicki Julian, who had been staying at her husband's bedside constantly for nearly two weeks. She's now seen the importance of the quilts with two patients.
"I think it's a very wonderful thing, a loving thing," she said. "It's something from his last days, but it will be nice memories. I'll find a place at home, probably, and put it on the wall.
"Or maybe, I'll put it on his side of the bed."
Copyright 2018 The Lawrence Journal-World. All rights reserved. This material may not be published, broadcast, rewritten or redistributed. We strive to uphold our values for every story published.