The nation's largest retail pharmacy company is coming to Lawrence's busiest intersection.
CVS Corp. plans to open a pharmacy at the southeast corner of 23rd and Iowa streets, formerly home to Furr's Cafeteria.
The $2 million project is scheduled for the second half of 2007 and would include a drive-through pharmacy, photo center, beauty supplies and other features that helped the company generate more than $37 billion in sales last year.
"It's a growing, thriving industry," said Mike DeAngelis, a CVS spokesman. "Consumer demand for prescription drugs is increasing as the population continues to age. It's a healthy business."
Woonsocket, R.I.-based CVS has 6,200 stores in 43 states and the District of Columbia. In Kansas the company has 35 locations, including 22 locations acquired earlier this year when CVS bought Osco and Sav-On drugstores.
CVS says it owns 16 percent of the U.S. retail prescription market, or enough to handle one out of every seven retail prescriptions filled nationwide - and one in five within communities the company serves.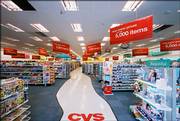 "Kansas is a relatively new market for us," DeAngelis said. "We are looking for opportunities in the state, and we'll continue to do that."
In coming to Lawrence, CVS chose the most visible site in town.
More than 31,000 vehicles drive through the intersection each day, said Bill Ahrens, the city's transportation planner. That's some 3,000 more than the 28,000 at the city's second-busiest site, Sixth and Iowa streets.
The 2.76-acre site also is adjacent to First Med, a prompt care office at 2323 Ridge Court.
The new store will replace the existing building, which had been home to Furr's for 19 years until it closed in 2002. The new parking lot will have room for 86 vehicles and walking paths.
"We're very excited about being at that intersection," said Margaret Hewitt, development director for Cedarwood Development Inc., which is managing the construction project for CVS. "It's close to the university, and we feel that it's a plus. It's a win-win for Lawrence and for CVS."
DeAngelis, the CVS spokesman, said the company would be adding about 250 stores nationwide this year. The Lawrence store won't come on line until the second half of 2007, and no decisions have been made about whether it will be open 24 hours a day.
Typical CVS stores have about 25 full- and part-time employees, he said.
Copyright 2018 The Lawrence Journal-World. All rights reserved. This material may not be published, broadcast, rewritten or redistributed. We strive to uphold our values for every story published.