Topeka — Seated around a library table after school at Lowman Hill Elementary School, four students were brimming with dreams.
Some day, they hope to be lawyers, fashion designers, veterinarians, teachers, principals, doctors, foster parents and ice skating instructors. Most have several professions on their to-be lists.
"Veterinarian, slash, supermodel, slash, singer, slash - what was the other thing?" paused Destynee Thomas, one of the fifth-graders. "Oh, slash, fashion designer."
Channing Cox smiled, happy to see the students dreaming big. He has his own dreams for these kids: All 16 Topeka fifth-graders will go to college for free, thanks to the new College Prep Academy of Topeka.
Cox launched his academy this fall with a few select students at Lowman Hill Elementary, Bishop Elementary, State Street Elementary, and Scott Computer and Technology Magnet School, which are in Topeka Unified School District 501.
It is a program that relies on parents, the district and Cox to keep students on the right track.
A promise
Cox, of Topeka, has spent his career in higher education. He isn't employed by the district. But he meets with students each week at their schools for seminars during which they talk about books they are reading. Once a month, all 16 students get together for special activities, such as a trip to a museum or a volunteer project.
In the summers, there will be more activities, taking the students to college campuses and plugging them into activities or professions in which they have an interest. In future years, these students might receive tutoring or help applying for scholarships.
Regardless of scholarship dollars that might flow in, Cox has made a promise. These students will go to college on the tab of the College Prep Academy, after which they are obligated to come back to Topeka for two years.
"They want to be challenged," Cox said. "I think they want to excel. They want to show that they can do it."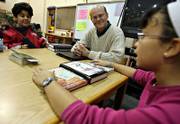 The academy is Cox's version of a promise made by an Oakland, Calif., real estate agent to a class of disadvantaged first-graders in 1987. If students graduated from high school, Oral Lee Brown vowed that she would put them through college.
"Think about it," Cox said. "You're talking about having an impact on not only students' lives but the community."
Where they're going
Cox began his efforts by meeting with such officials as Supt. Tony Sawyer of the Topeka school district , which serves the largest number of disadvantaged children in the area. And he met with principals, such as Lowman Hill's Russ Hutchins, who is excited about the future for his four participating students.
"I think they'll be good role models when they go to middle school and to high school," Hutchins said.
To emphasize the commitment, parents and students signed a statement at a commitment dinner last month. The bottom of the form carried the program's motto: "It's not where you're from, but where you're going; it's not who you are, but who you are becoming!"
Cox expects many of his 16 academy students to be the first in their families to graduate from college. So, as early as this summer, students will spend time on college campuses.
"Part of this is getting kids from limited circumstances to arenas they've never been," Cox said.
And as he prepares them for that first day of college classes, he expects to develop close bonds.
"What I'm looking forward to is going to college graduations in 2018 because they're all going to go to college," he said, "and then going to weddings."
Funding the program
Cox figures scholarships and financial grants available to lower-income students will ease the eventual cost of putting 16 kids through college. Still, he expects that he will need to raise $60,000 a year for eight years to send the academy students to college and cover other program costs.
Parents are asked to contribute some, varying from $15 to $25 a month, depending on their ability. And Cox has quietly begun approaching potential donors.
While he would love to take on a new class of fifth-graders in the future, he said he won't until he is sure that the current class is financially covered.
For now, he is getting to know his academy students, who talk about the books they are consuming during the extra two hours of reading they are asked to do each week. But will they really work hard?
"Yes," chimed in the high voices of Destynee and her pals Tahnya Heath-Stewart-Webster and Kimberly Buzbee. They say they know what it will take.
"Never give up," Kimberly said, before adding a favorite line from a Disney Channel movie that the girls like, "Expect the impossible."
Then, all three girls cheered with fists pumping in the air, "Expect the impossible!" As far as Cox is concerned, they will be lawyers, fashion designers, veterinarians, doctors - all those things they want to be. Hutchins has his own vision for the future.
"A big dream of mine is that some of these four could come back and be teachers at Lowman Hill," he said.
Copyright 2018 The Associated Press. All rights reserved. This material may not be published, broadcast, rewritten or redistributed. We strive to uphold our values for every story published.