Cleveland — Armed with guitars, amps and attitude, they rocked the casbah, fought the law and hijacked a train in vain.
The Clash were more than a four-piece band. They were rock 'n' roll revolutionaries.
And now, 30 years after the band first stormed across England and later invaded the United States with its sonic blend of rock, reggae, rap and righteousness, the Clash is being celebrated with an exhibit at the Rock and Roll Hall of Fame and Museum.
It's enough to give Mick Jones a case of anxiety.
"I've got mixed trepidation about seeing it, getting to the museum stage of life and still being alive," said Jones, who along with the late Joe Strummer, Topper Headon and Paul Simonon formed the Clash's classic lineup.
"Revolution Rock: The Story of the Clash" has opened to the public and will be on display until April 15. Among the exhibit's pieces are instruments, including Simonon's famous smashed bass from the cover of "London Calling," which is regarded as one of rock's finest recordings. The exhibit also includes stage clothing, memorabilia and original manuscripts from songs like "Know Your Rights" and "Clampdown."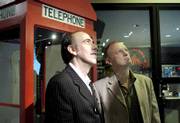 Along with the Sex Pistols, the Clash erupted from London's fertile music scene in 1976 to ride the first wave of British punk. But while Johnny Rotten and the bad-boy Pistols vented their nihilistic rage about political injustice with straightforward rock, the Clash's sound was a mesh of influences.
Bob Marley, Mott the Hoople, The Who, Eddie Cochran and others could be heard in the Clash's wide-ranging body of work.
"We just played the stuff we liked," Jones said in an interview this month.
Strummer was the prime source of the band's left-winged platform. He and others in London's punk scene engaged in squatting (inhabiting abandoned buildings) as a way of protest and formed a band called the 101ers, named after the address of the squat where they lived.
"Joe was always political," Jones said. "He came from that background, but the Clash were never really allied to any political party. We were just having a go, really."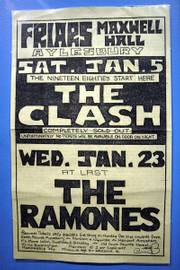 But the Clash made it clear that it was making more than music beginning with its first single "White Riot" in 1977 and on tracks like "Career Opportunities," "Tommy Gun" and "London's Burning" as well as in a three-disc album, "Sandinista," titled in tribute to a Nicaraguan political movement.
And although it was an instant success in the United Kingdom, it wasn't until 1982's "Combat Rock", with its hits "Rock the Casbah" and "Should I Stay or Should I Go," that the band made a splash in the United States.
"The States are so big that it took awhile for people to hear us," Jones explained. "But when we first came over in '78, everywhere we went we saw pockets of the punk scene flowering up."
Jones, who was kicked out of the Clash in 1983 following a dispute about the band's direction, went on to success with Big Audio Dynamite and is still making music. Now 51, one of punk's pioneers has few regrets about his time with a band considered among rock's most influential groups.
Jones said he misses Strummer "terribly. I think of him a lot." Strummer died in 2002, just a few months before the band was inducted into the Rock Hall in 2003.
Copyright 2017 The Associated Press. All rights reserved. This material may not be published, broadcast, rewritten or redistributed. We strive to uphold our values for every story published.